Lights! Camera! Auction! a benefit bash for Film Biz Recycling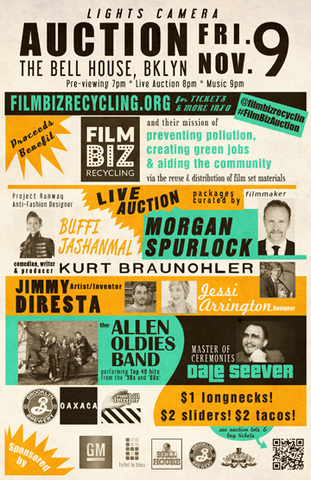 The Bell House Hosts Lights! Camera! Auction! - an exceptionally FUN and exciting night of a live and silent auction of quirky and hilarious curated prop collections by local celebrities. Following the live auction - hold on to you hats! The Allen Oldies Band will whip the crowd into a frenzy with barn burning hits from the 50's and 60's.
All auction items are from the props we rescued from the landfill! Film Biz Recycling accepts left over props, materials and set dressing for NYC's entertainment biz and re-distributes over 60% to local charity. The creme de la creme is sold in our 11,000 square prop shop - and the uber creme is auctioned.
Check out the out-of the-ordinary auction items on
http://www.filmbizrecycling.org/auction2012
Hosted by:
Curators:
Morgan Spurlock (Documentarian)
Kurt Braunohler (Comedian)
Jessi Arrington (Designer)
John DiResta ('Dirty Money' star)
Buffi Jashanmal (Project Runway Fame)
Rena D'Angelo (won an Emmy for decorating Mad Men)
Dale Seever
Entertainer, Chubbier Elvis Costello, Vaguely Canadian
Friday, November 9th
7pm - auction viewing
8pm - live auction of Star Curator's Collections
9pm - The Allen Oldies Band
The Bell House
149 7th Street (2nd/3rd Avenues)
Gowanus, Brooklyn 11215
Musical Entertainment (all the way from Houston, Texas)
The Allen Oldies Band
Subway:
F/G to 9th&4th
R to Union
GM is providing a hybrid shuttle to subways and Hotel Le Bleu after the party! Book Hotel Le Bleu by 10/15 for 109/night! Say "Film Biz Package"
Specials:
$1 Brooklyn BreweryLongnecks
$2 Tacos from Oaxaca
$2 Sliders from Root Hill Burger
Link to buy tickets
http://www.brownpapertickets.com/event/268588
$40
Contact:
Eva Radke
eva@filmbizrecycling.org
347-384-2336