Android Series 3 Signing Event at BAIT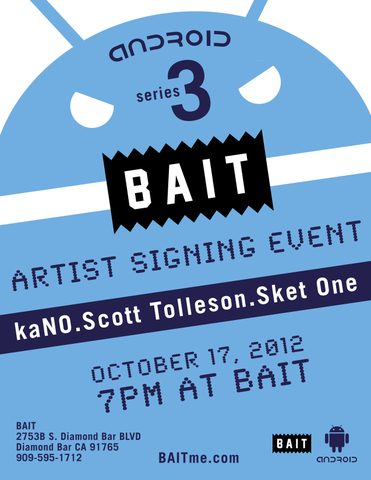 LOS ANGELES, Oct. 15, 2012 - Three high-profile artists are set to take over Diamond Bar's BAIT lifestyle boutique for an exclusive event for collectible vinyl enthusiasts.
KaNO, Scott Tolleson, and Sket One will be at the BAIT store in Diamond Bar, CA for the Android Series 3 Artist Signing Event on October 17, 2012. The three artists will be on hand to celebrate the recent release of their Android designs starting at 7 PM PST, giving vinyl collectors the chance to get their prized pieces signed by the minds that created them.
KaNO is a New York-based illustrator, designer, and animation artist whose projects have spanned graphic novels, commercial work and animated programs. His vinyl designs feature heavy influence from classic cartoons and his work at the Disney Channel and Cartoon Network's Adult Swim. Scott Tolleson is a self-professed toy junkie that holds over a decade's worth of experience at Walt Disney's theme park division, where he has created countless pieces for parades, entertainment venues, and merchandising. For his own art, Tolleson freely switches between mediums and experiments with materials, styles, and subject matter. Sket One is a painter, illustrator, and designer with roots as a graffiti artist, which has helped him maintain a sharp wit and urban sensibility within his current work. He has been designing vinyl collectibles since 2003 for the likes of Kidrobot, MINDstyle, Wheaty Wheat, Red Magic, and more.
The three artists lent their talents to DyzPlastic's recently released Android Series 3, a series of artist-driven toys originally conceived by Andrew Bell and Google, Inc. Series 3 also featured designs by Google, Bell, Gary Ham, Huck Gee, Kelly Denato, KRONK, and MAD, all available in blind boxes. Unlike the first two series, Android Series 3 saw only one limited production run.
About BAIT
BAIT inc. (
http://BAITme.com
), Los Angeles' newest lifestyle boutique, will serve as the site for the event. BAIT was founded with a drive to bring the fashion, sneaker, art, and collectible cultures together in one distinctive space, never ending its hunt for the most alluring products on the market. The Android Series 3 Artist Signing Event will bring the three high-profile artists together alongside the latest shoe releases, freshest streetwear designs, and expansive collection of vinyls.