Laws.com Launches the Free Legal Forms Platform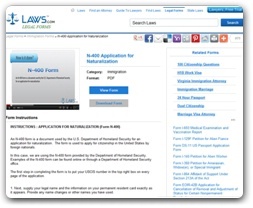 Laws.com - the creators of one of the largest informational legal networks and the smart Legal Advertising Platform for attorneys launched a
Free Legal Forms
platform (
http://legal-forms.laws.com
) that provides forms for almost every legal matter imaginable, from estate laws to tax forms. Seven most searched fields are featured on the main page and forms cover legal fields including immigration, bankruptcy, family, divorce, real estate, intellectual property, estate planning, business, injury, and tax forms.
The popular forms offer instructional videos as well as text instructions that can be helpful to hearing and vision-impaired persons. Further changes are in the works to provide the most suitable and easy-to-use legal platform for persons with disabilities. While nothing can replace the advice provided by a licensed attorney, filling out and filing the forms independently provides deeper understanding of the legal issue at hand as well as saves a great deal on the legal fees by the users.
As Free Legal Forms Platform joins legal knowledge articles, statutes and codes as well as cases and best matching attorneys in the network, Laws.com unique algorithm works to increase the ability of clients to make the best possible decision on legal representation and other relevant issues. Attorneys are matched to the informational content and forms through Laws.com Law Firm Marketing by areas of practice and location, bringing the network's best matching attorney to the user, rather than forcing the user to search through directories. Matching algorithm allows for quick and easy solution for users as well as targeted prospect stream and branding opportunities for qualified attorneys.
Laws.com was founded with the mission of improving access to the law for all persons in need of a legal help. Demystifying typical legal issues is also a critical aspect of the company and is achieved through a comprehensive database on general legal issues as well as specific state, local and federal matters. With a unique and intelligent Legal Marketing platform Laws.com provides legal forms, information and targeted attorneys to users all within one page. More information on the attorney advertising, including rates, conditions and services is available upon request and at Laws.com
Law Firm Marketing
page.
For more information about the
Legal Forms
platform and Laws.com, email
pr@laws.com
or call 866- LAWS-COM.