Survey ranks St. Joseph Institute as one of the best addiction rehabs in Northeast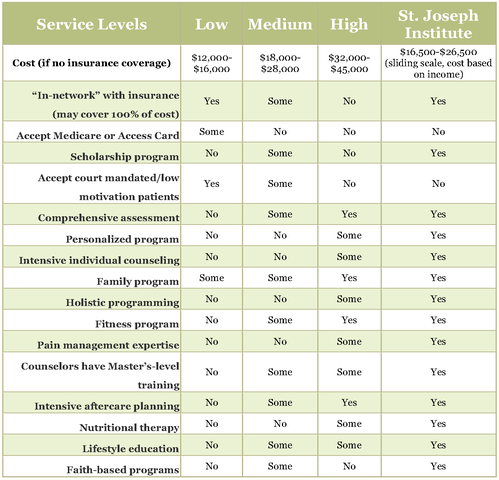 State College, Pennsylvania
– St. Joseph Institute has released the results of a survey that compared the Institute's
drug and alcohol rehab
with 14 other facilities in Pennsylvania, Maryland, New Jersey, New York and Delaware. The results reveal that St. Joseph Institute provides a superior level of care that is found at only a few very expensive rehab centers. No other comparable rehab facility worked with insurance companies on an "in network basis." Those rehabs providing a "high" level of service similar to St. Joseph Institute often charge $15,000 - $25,000 more than the insurance reimbursement , or do not accept any type of insurance.
"Doctors, counselors and other healthcare professionals have constantly told us how unique our program is, praising the Institute's comprehensive approach to addiction treatment," stated Michael Campbell, co-founder and president. This survey confirmed how much more we offer in our determination to achieve the best possible results."
Among the Institute's service offerings that are available at very few facilities are the following:
Individual counseling and therapy that is offered a minimum of 5 times per week.
Expertise in pain management to help those who are addicted to prescription medications.
Nutritional therapy that balances the body chemistry; promoting wellness, lessening mood swings, and reducing cravings.
St. Joseph Institute is recognized as a leader in the field of addiction treatment. Its program emphasizes the importance of identifying and addressing the underlying causes of addiction and helping people find lasting solutions. In contrast to most addiction rehab facilities, the Institute's programs are highly personalized, focusing on the needs of each resident. Treatment includes individual and family counseling, educational seminars, bodywork, fitness, 12-Step programs, meditation, discussion groups, and state-of-the-art nutritional therapies to support recovery.
For more information:
Email St Joseph Institute