Miami Dentist Dr. Edderai Launches Updated Website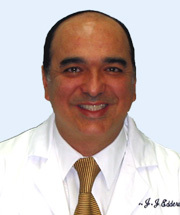 Dr. Jean-Jacques Edderai, an experienced North Miami Beach dentist, is excited to announce several updates to his website. The changes are aimed at improving the experience of online visitors and expanding his online visibility to prospective patients in the Miami area. Dr. Edderai hopes that an expanded online presence will help him bring healthy smiles to more people in South Florida.
Dr. Edderai's website, NorthMiamiBeachDentist.com, is designed to serve as a comprehensive resource that will allow current and prospective
dentistry Miami
patients to learn about the practice and the many dental procedures offered. While browsing through the website, users will be able to find in-depth information on areas of dentistry Dr. Edderai practices, including prosthodontics, orthodontics, endodontics, periodontics and oral surgery. Educational resources on TMJ disorder, and treatments for TMJ disorder, can also be found on NorthMiamiBeachDentist.com.
In addition to these helpful articles, Dr. Edderai's website also features content to help current and prospective patients become more familiar with the practice. The testimonials section of the website has more than 80 firsthand accounts of patient experiences at Dr. Edderai's office. Not only can visitors read helpful testimonials from some of Dr. Edderai's former patients, they can also see the results for themselves by browsing through the smile gallery, which features numerous before-and-after photos. Users can also take a virtual tour of the office to become more acquainted with the elegantly appointed facilities and the first-rate technologies utilized by Dr. Edderai.
In an effort to make each patient's experience at the office as seamless as possible, the website provides simple ways for patients to contact Dr. Edderai and his staff, request an appointment or even make a payment.
About Dr. Jean-Jacques Edderai
Dr. Jean-Jacques Edderai is a prominent Miami Beach dentist who offers a full range of dental services, including Invisalign,
lumineers
and
dental implants
in Miami. Dr. Edderai received his dentistry degree from the prestigious Dominican Dental University. He serves as an examiner on the Florida Dental Board. Dr. Edderai is a highly regarded
porcelain veneers Miami
provider and dentist who is proud to serve the dental needs of the South Florida community.
Please visit
http://www.northmiamibeachdentist.com
for more information.
Email Dr. Jean-Jacques Edderai