Cricket Introduces New Huawei Boltz 4G LTE Modem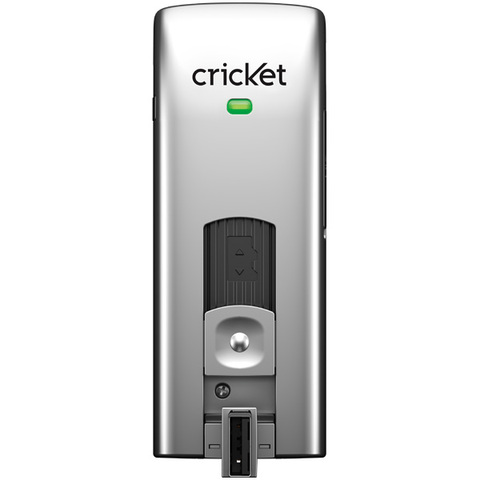 The
Huawei Boltz
, Cricket's 4G LTE modem, features a lightweight, sleek design. Its integrated installation software allows quick and easy set-up and supports Windows and Mac operating systems with a bilingual user interface in English and Spanish. The modem has a hinge that pivots to any USB 2.0 configuration and has a microSD slot for up to 32GB of additional memory storage. A new upgrade to the device has added 4G Over-The-Air and 4G PCS Band support. The Boltz is compatible with Cricket 3G networks for use in all 4G Cricket markets. The Huawei Boltz, is available for $149.99 (MSRP) at Cricket's company-owned stores and dealers in Las Vegas and Tucson.
"The new Boltz modem provides Cricket customers in our 4G LTE markets a fast and reliable user experience," said Matt Stoiber, senior vice president, devices for Cricket. "In pre-launch speed tests conducted in our Las Vegas market, Cricket's 4G LTE speeds ranged from three to 15 times faster than current Cricket 3G data speeds, depending on market conditions."
Huawei Boltz Features
Frequency:
4G: LTE AWS Band Class 15 Bandwidth 1.4MHz, 3MHz, 5MHz
3G: CDMA 1x & EVDO BC1 & BC15 (1900 & AWS) aGPS
OS Compatibility:
Windows XP SP2/SP3, Window Vista SP1/SP2 (32 & 64 Bit), Windows 7 (32 & 64 bit)
Mac OS 10.5 to 10.6 with latest updates (32 & 64 bit), 10.7 (32 & 64)
Micro USB (High Speed)
Processor:
MDM9600
Memory Slot:
microSD™ (supports up to 32GB)
Dimensions/Weight
(H) 4" x (W) 2.2" x (D) .60"
3.9oz
Customers can pair their new Huawei Boltz modem with one of four
4G LTE monthly data service plans
ranging from $35 to $80 month depending on the users desired full-speed requirements.
About Cricket Cricket is the pioneer and leader in delivering innovative value-rich prepaid wireless services with no long-term contracts serving approximately 6 million customers. Cricket offers wireless voice and mobile data services over the latest, high-quality, all-digital 4G (LTE) and 3G CDMA wireless networks. In 2011, Cricket launched its award-winning Muve Music® product, the first
music service designed for a wireless phone
that now has more than 600,000 customers. Cricket's innovative products and services are available at Cricket branded retail stores, dealers, national retailers and at
www.mycricket.com
. For more information about Cricket, please visit
www.mycricket.com
.
Email Cricket Communications