Get Ready For An Explosive November 5th Bonfire Night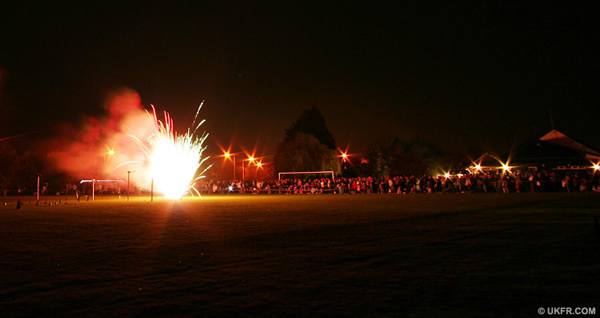 No doubt you'll already be doing plenty of planning if you're having your own display this year and if you're thinking of going to see a professional show, you may have already booked your tickets and be looking forward to the big night.
Whatever you've got lined up this year, the most important thing to remember on fireworks night is to keep safe and stay on the right side of the law. Whilst you're allowed to use fireworks every day of the year, you will be breaking the law if you set them off after 11pm. Luckily for firework enthusiasts, the exceptions to this rule are Bonfire Night itself, Diwali, New Year and Chinese New Year, when you can continue your display until 1am, but remember, displays on the days around the 5th November must adhere to the 11pm rule still.
You must also make sure that you're buying from a registered seller, who is allowed to sell
fireworks
in the weeks surrounding the 5th November only, or a licensed fireworks shop that is legally able to sell fireworks all year round. The reason that it's extremely important to know that whoever you are buying from is licensed is that you can be fined up to £5000 and imprisoned for three months for buying or using fireworks illegally.
Just as important as ensuring you don't get in trouble with the authorities this 5th November is keeping your friends and family safe. If you're going to be involved in your own display, it's important that you are familiar with the Fireworks Code, which lays down sensible advice, such as never return to a lit firework and never throw fireworks, it's imperative that you read the Code and follow it at all times.
If you were expecting to put on your own show this year, but still haven't got round to purchasing your fireworks then don't worry, it's not too late;
Fireworks Crazy
will be able to cater to all your needs. Their website was awarded the best fireworks website in the most recent industry vote due to features like making sure you can watch videos of all their fireworks online so you know exactly what you will be getting. Thanks to their massive buying power, they're able to offer the best prices on all fireworks and they guarantee that if you find them cheaper elsewhere, they'll beat that price.
If you would like to see some of Firework Crazy's fireworks in action, they will be running the Lords Golf & Country Club, Woolacombe Town Fireworks, Bozeat Town Fireworks and Halstead Fireworks displays this November 5th. Better yet, they also run a free review night in Chelmsford every year, where you can see a great selection of their fireworks before you buy.