Indian cinema legend awarded UK Degree as Tagore Postgraduate Scholarships Launched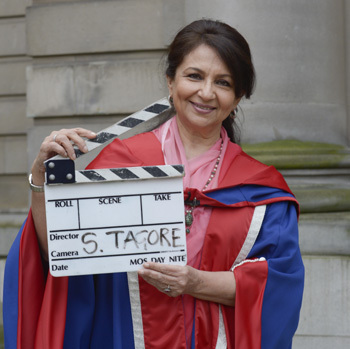 Sharmila Tagore, the renowned Indian actress
has this month been honoured at Edinburgh Napier University, Scotland for her spectacular contribution to Bollywood cinema.
The award-winning star, who is the great grand-niece of noted poet
Rabindranath Tagore
, has been given an Honorary Doctorate of Arts from the UK's Edinburgh Napier University.
Aged 13, Tagore made her cinematic debut in Satyajit Raj's Apur Sansar. The UK's Edinburgh Napier University recognised her talent at this week's graduation at the University in Scotland's capital Edinburgh.
For more information on why the UK's Edinburgh Napier University chose to honour Sharmila Tagore's career visit the
Scottish-University News
article.
The honorary doctorate degree in Arts has been awarded to Tagore in the same year that the University launched the Institute for Creative Industries entitles 'The Scottish Centre for Tagore Studies'. Edinburgh Napier is the first
UK university
to open a centre for Tagore cultural studies. The centre will promote the philosophy and literature of Rabindranath Tagore, who, in 1913, was awarded the Nobel Prize for literature and was often referred to as the Bengali Shakespeare.
In addition an Edinburgh based UK University has announced two new £5,000 postgraduate scholarships for graduate applicants with a Bachelor (Honours or 4 year) with 60% or above and an IELTS score of 6.5 from India or Bangladesh. Entitled the Rabindranath Tagore Postgraduate Scholarships by Edinburgh Napier University, the Indian scholarships celebrate the opening of The Scottish Centre for Tagore Studies.
The scholarships are open to students looking to start postgraduate studies within the School of Arts & Creative Industries in September 2013. The deadline for applications is 31st May 2013.
Prospective postgraduate scholarship students will also be asked to submit a portfolio of work which will be judged by our UK university panel.
Applicants must have an unconditional offer of study to one of the School of Arts and Creative Industries programmes.
Edinburgh Napier University's Principal and Vice-Chancellor Professor Dame Joan Stringer: "This scholarship programme will not only provide essential financial backing, but will help two exceptional students reach their full potential. We have more than 5,000 international students already studying in Edinburgh Napier's institutions and our courses offer a strong foundation for a future career."
Candidates interested in applying for the scholarships can find out more by contacting Edinburgh Napier's
India office
in Hyderabad or for more information on Sharmila Tagore's awarded degree contact:
Patrick McFall
Tel: 0131 455 6314
E:
p.mcfall@napier.ac.uk
Email Edinburgh Napier University