Vintagetrends.Com Offers Great Costume Ideas For Halloween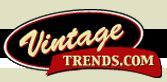 North Hollywood, CA
–VintageTrends.com is the leading one-stop shop for quality vintage clothing online. From vintage western wear and vintage denim, VintageTrends.com has an extensive selection of collector pieces, ideal to create a unique Halloween costume, or for everyday wear. Some of the featured selections include disco clothing, WWII military clothing and many other one-of-a-kind vintage pieces, ideal for any occasion.
VintageTrends.com features vintage denim and other clothing for men, women and children, as well as vintage household items. Women's vintage clothing includes stylish dresses, blouses, jackets, pants, skirts and sweaters, from the 1930s through the 1980s. The men's vintage collection includes 70s
retro clothing
, such as vintage denim bellbottoms, corduroy pants and leather vests. These items are great for a unique and realistic Halloween costume, or as an addition to an eclectic wardrobe.
All vintage denim and clothing pieces are hand-selected by VintageTrends.com professional style consultants, highlighting the most influential decades, from the 1930s, until today. With new items added daily, shoppers have access to the largest selection of
vintage clothing
and vintage denim available on the web. Each item is listed with a photos and product details, such as garment descriptions and historical information.
For many, collecting vintage clothing and vintage denim is more than a pastime – it is a way to preserve and admire history, culture and fashion. Many of clients of VintageTrends.com are designers and stylists on the hunt for quality unique vintage pieces that will set apart any outfit. Throughout the decades, apparel has reflected the political, social and economic events of an era, and these styles are an great way to relive those exciting times.
To shop the selection of vintage denim and other vintage clothing, visit VintageTrends.com, or email
inquiries@VintageTrends.com
for additional information.
About VintageTrends.com:
VintageTrends.com offers an eclectic collection of authentic
vintage clothing online
, for men, women and children, including collector garments and accessories, military apparel and vintage home decor. As veterans in the vintage clothing industry, we are experts in locating quality vintage items that are valuable, desirable and historically significant. Whether your passion is for 1930s cocktail dresses, 1950s motorcycle jackets, 1960s hippie apparel, or any other kind of vintage retro clothes, you will find them here, at VintageTrends.com.