Lear Capital's Presidential Poll and the chance to Win Gold … Closes in just 48 Hours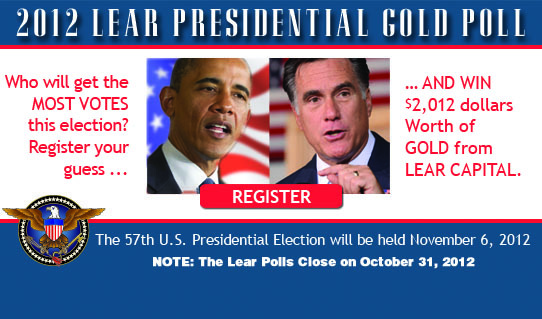 After more than 2 months of zealous voting, Lear Capital's Presidential Gold Poll ends in just 48 hours! All the debates are over and thanks to Super Storm Sandy; it appears that all the campaigning may also be done. Lear Capital's poll, (
www.learpresidentialpoll.com
), is down the final 48 hours of voting. The nationwide poll awards $2,012 worth of gold bullion to whoever comes closest to guessing the final vote count.
In this contentious election year, America has weathered the Rocky Mountain Rumble, the Heat-Up in Hofstra, and the final Foxtrot in Florida. The debates offered countless questions on jobs, energy policy, taxes, health care, the deficit, China, Libya, and immigration. There are few undecided voters left in America and yet the truly undecided may very well hold the keys to the election's outcome.
By all accounts, it's going to be a horse race. National polls have the contest virtually tied. While Governor Romney has gained momentum since the first debate, President Obama has also reignited his base. The question remains to what extent and will they come out on Election Day. There have been conflicting reports about voter turnout. Some are predicting that it will be low, while others claim passions on both sides are running extremely high. All agree that this is a serious election about very serious issues.
Each side offers a very different vision for the country with distinct philosophies of government and very contrasting remedies for curing all that ails America. Voters across the country will no doubt have a very clear choice on November 6th.
The Lear Presidential Poll (
www.learpresidentialpoll.com
) will award $2,012 worth of gold to the closest statistical guess of the final vote count. There is a Second Prize also available awarding a Gold American Eagle Bullion coin. Registrants can enter the Second Prize giveaway by simply referring someone else to also vote in the poll. "The Great Fiscal Cliff and $10,000 Gold" is a free download on the voting site as well. It addresses the impact of the current political stalemate in Washington as well as monetary policy, the coming economic contraction, and provides a game plan to help survive it all.
The Presidential Gold Poll closes at MIDNIGHT on October 31, 2012 and results will be announced on Lear Capital's web site on or before November 30, 2012.
Email Lear Capital Marketing