Custom Ornamental Iron Works Unveils New Stair Railings Design Tool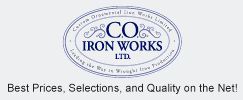 Phoenix, AZ
– Homeowners looking for one-of-a-kind, iron stair railings to make a statement in their home can now create their own styles through Custom Ornamental Iron Works' website. With the new stair artist design tool, clients can select from the range of stair railings available from Custom Ornamental Iron Works and put different details together to create the perfect look for their home. The stair railings come in a variety of styles – from contemporary to classic – and enhance the look of living spaces.
Custom Ornamental Iron Works is known for exquisitely crafted iron work including unique stair railings. With a selection of beautiful organic style, homeowners can create a variety of looks with the new artist design tool. Designers will be able to select from scrolled
balusters
, belly balusters, wavy baluster and more to create a completely custom look. The simple "drag-and-drop" feature allows users to see how these stair railings will look in the home.
Once the stair railing design is complete, clients can save the rendering and use it to get custom stair railings from Custom
Ornamental Iron
Works. The company then custom designs stair railings to the client's specification using the finest raw materials. That way, they are sturdy, dependable and long lasting. The custom design tool allows clients to envision how these beautiful iron stair railings will complement an interior or outdoor space, which eliminates guesswork.
All
stair railings
and other iron work products are manufactured onsite at Custom Ornamental Iron Works. Clients can be sure that any stair parts, gate operators, steel brackets, aluminum balusters and gate parts from this company come with the most competitive price tags found throughout the United States and Canada. Custom Ornamental Iron Works ensures that all orders are shipped quickly and efficiently so that clients do not have to wait to receive their gorgeous ironworks and complete their redesign project.
To try the new stair railing design tool, visit
www.customironworks.com
. For more information about custom iron accents, contact Custom Ornamental Iron Works at 602-275-2551 or
info@customironworks.com
.
About Custom Ornamental Iron Works Ltd.
Custom Ornamental Iron Works Ltd. is leading the way of producing and distributing wrought iron, ornamental iron, cast iron, and aluminum stair and gate parts and accessories. For over 35 years, they have offered an extensive line of wrought iron & ornamental iron products such as balusters, railings, and other ornamental iron and aluminum. Their wrought iron, ornamental iron & aluminum products are manufactured on-site and distributed throughout the United States and Canada. Visit their online catalog or purchase a hardcopy.