Corporate Finance Associates Advised Southern Imperial, Inc. on Successful Acquisition of Sunbelt Plastic Extrusions, Inc.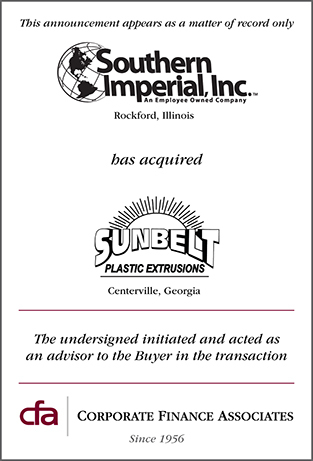 CHICAGO, IL –
Corporate Finance Associates
, an international investment banking services firm providing merger and acquisition, business valuation, capital resource and financial advisory services, announced that it was the advisor to Southern Imperial, Inc. in its acquisition of Sunbelt Plastic Extrusions, Inc.
Southern Imperial, Inc. (SI) is an employee-owned corporation based in a 400,000-square-foot manufacturing and warehouse facility in Rockford, Illinois. SI is the industry's leading manufacturer of store fixture hardware and retail display solutions, delivering proven results and influencing point-of-purchase for the nation's top retailers and their suppliers. SI manufactures and sells over 150 million display hooks per year and an additional 250 million displays and fixture components each year. Corporate Finance Associates served as exclusive advisor to Southern Imperial.
"The synergies between Southern Imperial and Sunbelt were evident early on in the process. As this is the third acquisition we have helped Southern Imperial complete, we are thrilled to have played a role in the growth of their company," stated
Anthony Contaldo
, Director at
Corporate Finance Associates' Chicago
office.
Sunbelt Plastic Extrusions, Inc. (Sunbelt) has provided innovative solutions in plastic extruded products such as signs, extruded price rails, display panels, aisle directories and more since 1981. Sunbelt will continue to operate out of its manufacturing facilities in Centerville, Georgia.
This acquisition augments SI's in-house extrusion capabilities and expands their geographic footprint, facilitating their ultimate goal of providing unmatched quality products and services to their customer base. The acquisition of Sunbelt marks the third transaction for SI in the past 24 months. Corporate Finance Associates acted as the exclusive investment banking advisor to SI on all three transactions.
Dale Thomas, CFO of Southern Imperial commented, "We were very pleased with the work that Corporate Finance Associates provided us in the acquisition of Sunbelt Plastic Extrusions. They provided valuable assistance with the valuation of the target company and negotiation of purchase price, along with critical insight into the due diligence process. Above all, they maintained focus on the goal at hand, kept everyone on target to that goal, and maintained an atmosphere of professionalism among all parties and personalities involved to attain that goal."
About Corporate Finance Associates
Celebrating more than 56 years of service, Corporate Finance Associates is a major investment banking firm, with over 20 offices across the United States and Canada, 3 in India and 17 partner offices in Brazil, China and throughout Europe providing middle-market companies with a wide range of financial advisory services and access to capital resources. From project inception to completion a senior principal guides clients through every challenge, advocates on their behalf, and leverages CFA's experience and extensive resources. More information is available via the Internet at
www.cfaw.com
.
Email Corporate Finance Associates