Get Your Custom Louvered Patio Covers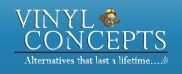 Vinyl Concepts, the premier supplier of solid
vinyl patio covers
, offers the louvered
patio cover design
available for customizing outdoor spaces. The louvered patio cover is a different style that functions as a shade for one direction while allowing sunlight on the other.
Louvered patio covers is a different structure that allows the home owners the option to choose and decide how much light or shade they want from their covered patio. The Louvered patio covers can be created with various style, size, spacing and angle to create optimal shade patterns. It can also be custom designed to suit a home's style and orientation. Because it is made of reinforced extruded PVC it is low maintenance and is sure to last for a long time. Click on the link for more information on
solid vinyl patio covers
.
Vinyl Concepts fabricates their louvered patio covers in-house from their local manufacturing facilities. They can create different sizes, angles, spacing and colors to match a home's architecture and design. Vinyl Concepts also designs and manufactures PVC fencing, gates and trims for outdoor spaces.
To learn more about the Louvered patio covers from Vinyl Concepts, please visit:
www.patiocoversca.com
or call 1-877-528-4695 to speak with a representative to get a free quote or order a custom design patio cover.
About Vinyl Concepts
Based in Newbury Park, California, Vinyl Concepts has been producing beautiful outdoor PVC fencing and structures since 2005. The company has 3 major manufacturing facilities in Southern California. Proud to be a green company, their products are low maintenance and ecologically favorable without compromising style. Click on the link for more information on
patio shade ideas
.