The Adventure Park at The Discovery Museum Survives Hurricane Sandy Without Damage – Open For Business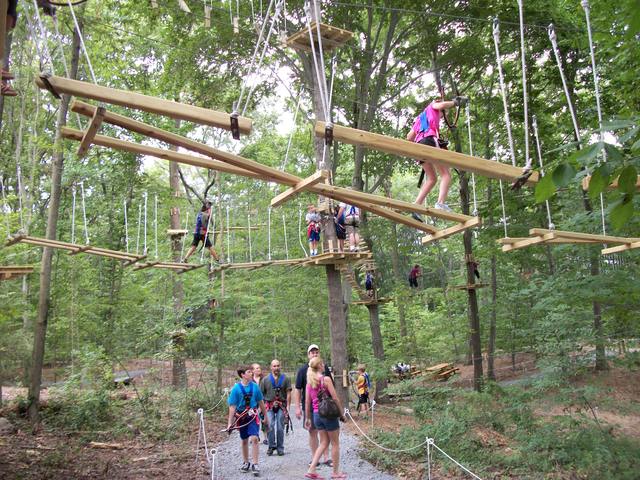 The Adventure Park at The Discovery Museum, Connecticut's first aerial forest ropes park, which is located in Bridgeport Connecticut, announced today that it survived Hurricane Sandy with no damage to its trees or aerial courses. It is open for business as usual.
"We are very fortunate and thankful that The Adventure Park was spared. Our hearts go out to our friends and neighbors who were not so lucky and sincerely hope their lives may return to normal just as soon as possible," said Anthony Wellman, Park spokesman.
The Adventure Park is located on five acres within Veterans Memorial Park, behind The Discovery Museum on Park Avenue. It consists of more than 110 platforms installed in the trees and connected by various configurations of cable, wood, and rope to form bridges and zip lines. Groups of bridges link together to form separate "aerial trails" though the trees. Although every course has zip lines on them, the climbing experience is about the challenge and rewards of navigating each aerial trail. There are eight trails in total for ages seven-to-adult. Climbers can select from courses ranging in difficulty levels from beginner to expert.
The Adventure Park is heading towards its scheduled season close at end of the day on November 12, 2012. Until then it is open on weekends and holidays from 9:00 AM until dusk, for general admission, and other days for groups making advance reservations. It will reopen again in the Spring of 2013. For more information please visit
www.DiscoveryAdventurePark.org
.
Email The Adventure Park at The Discovery Museum
Attachments