Short-Term Rentals That Hit The Mark In Mississauga Ontario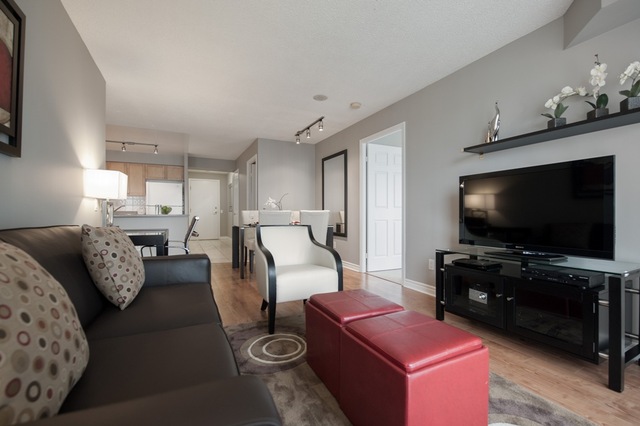 TORONTO , ON-DelSuites, the leading corporate housing provider in the Greater Toronto Area, has completed suite renovations at Mississauga's Skymark West. Working with a design-savvy team, the apartment enhancements include freshly painted wall colours, modern artwork and multi-functional furnishings.
With an open concept floor plan, the soft, neutral palate not only creates a cohesive space through out the entire suite but it's also a reflection of the property's outdoor environment which includes three landscaped rooftop terraces. In the main living areas, the sleek furnishings achieve a polished, upscale look that will appeal to guests who enjoy a classic yet modern style. By outfitting each furnished suite in Mississauga with multi-functional pieces including cube-style ottomans and side chairs, each room easily serves multiple purposes. Whether you're entertaining a large group or sitting down to a quite night solo, creating the perfect atmosphere is easy by simply repositioning a few pieces of furniture.
Along with the well-appointed furnishings, the team achieved a contemporary design aesthetic through the use of modern art. With pops of vibrant cherry reds, the artwork contributes to an interior aesthetic that is both current and timeless. In addition, each bedroom has been appointed with luxurious, hotel-style linens, offering guests an indulgent slumber that is as comfortable as home. Beyond the attention to design details, the
furnished apartments in Mississauga
are also equipped with latest technology including wireless internet, iPod docking stations and high definition LCD televisions, creating an inviting short-term rental for guests to relax, entertain and above all, call home.
About DelSuites
For the past 14 years, DelSuites has been the trusted name in corporate housing, offering 13 locations throughout the Greater Toronto Area. A member of the Tridel Group and the Canadian Chapter of the Corporate Housing Providers Association, for the past four years DelSuites has also achieved the Consumer's Choice Award for Business Excellence. For more information about DelSuites please visit
www.delsuites.com
.