ULocker Ransomware Scams PC Users By Demanding a $100-$200 Penalty Fine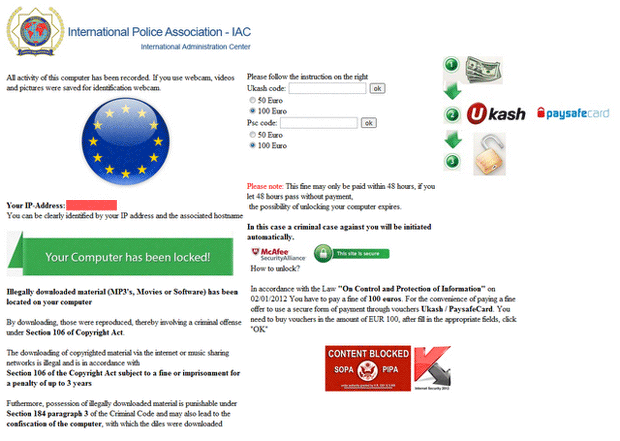 ULocker Ransomware makes many attempts to elude PC uses, so they may believe that they have visited some type of inappropriate site or shared copyrighted material over the Internet. Additionally, ULocker Ransomware is prone to locking up a computer and sometimes preventing access to some applications including Internet access.
Computer users who encounter ULocker Ransomware will want to take actions to remove this aggravating pop-up message and threat. Because ULocker Ransomware is among a growing population of new ransomware threats, the security experts at EnigmaSoftware.com have released a new removal report to address the needs of PC users to remove ULocker Ransomware.
Through a new removal report, released on EnigmaSoftware.com, PC users are able to find a solution to removing the ULocker Ransomware threat automatically. Moreover, the automatic removal method will detect and remove other malware threats, even those related to ULocker Ransomware. Many of the other ransomware threats, such as FBI Moneypak Ransomware and
Ukash Virus Ransomware
, may be removed utilizing resources found on the new ULocker Ransomware removal report.
Other particular things to note about ULocker Ransomware is that it was cleverly designed by hackers to detect an infected system's IP address and location. By detecting this information, ULocker Ransomware may display a customized message to pay homage to the local police department. Basically,
ULocker Ransomware
will attempt to resemble a website of a police department found in the location of the infected computer.
Removing ULocker Ransomware should be a priority for computer users who take notice to this vicious ransomware message. Removing ULocker Ransomware without delay will ensure an infected computer is not damaged or rendered useless when it comes time to pay bills online or check email. The ULocker Ransomware removal report is available at
http://www.enigmasoftware.com/ulockerransomware-removal
and has the necessary resources to safely detect and remove ULocker Ransomware.
Email Enigma Software Group USA, LLC