Finally Custom Christmas Cards are a Luxury You Can Afford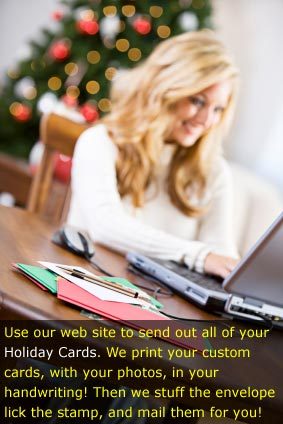 This Christmas people all over the world will find sending holiday cards easier than ever. Services such as Buy-Christmas-Cards.com are offering to send your
custom Christmas cards
for you, and they'll do it for less than the cost of a traditional store bought greeting card.
"We found that many people weren't sending their holiday cards because they didn't have enough time to hassle with putting together a mailing of 100 or 50 or even 20 cards," says Chris Swann founder of Buy-Christmas-Cards.com. "We now make it easier than ever to send your cards, because we'll do all the work for you. Our technology allows us to print, stuff, and send your cards cheaper than you can buy them at the greeting card store."
That technology is what makes Buy-Christmas-Cards.com so easy to use, so reliable, and so affordable. They offer the ability for you to go to a web site and select your holiday cards. The next day then print your message inside the cards, in your handwriting, and even can include your signature. You can also upload photos to be printed inside the cards. Once your
custom holiday cards
are completed they stuff the envelopes, lick the stamps, and put the cards into the mail for you.
How affordable are the cards?
Chris Swann says "Our standard greeting cards are 98 cents per card. Holiday cards with your photos printed inside are only $1.47. You can add an unlimited number of your personal photos to be printed inside the cards. That price includes the use of templates, clip art, and graphical elements to enhance your cards and make them stand out."
Buy-Christmas-Cards.com also offers the feature to send gifts with your custom Holiday cards. You can send gift certificates, gourmet foods, gift baskets, and other items with your cards.
Recently Buy-Christmas-Cards.com has also added the ability to create personalized photo gifts such as iPad & iPhone cases, photo books, calendars, mugs, mouse pads, canvas prints, metal prints, posters, and more.
You can even upload your contacts into the Buy-Christmas-Cards.com system. Take your contacts from Outlook, Excel, a spreadsheet, or database program and upload them into the system. Then select all the contacts you want to include in your holiday mailing.
For additional information contact Chris Swann or visit
http://buy-christmas-cards.com
today to request a free gift account so you can try out their custom Christmas cards.
Buy-Christmas-Cards.com:
Is a custom Christmas card service provided by Chris Swann an independent distributor of Send Out Cards, LLC. Their goal is to create senders of greeting cards and bring smiles to the faces of millions of people around the country.
Email Buy Christmas Cards .com