clickSUMO, A New Tool Cleans Up Databases Of Mobile Numbers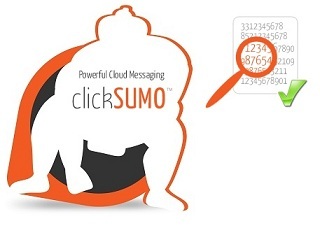 Global messaging provider
clickSUMO
revealed today its new HLR Lookup service that helps marketing companies and websites relying on mobile numbers for validation to easily clean up their databases of mobile numbers, thus ensuring a more accurate audience and more effective campaigns with considerable cost savings.
In the past, mobile numbers alone (MSISDN) were enough to identify the network a subscriber belonged to. However, with the widespread of number portability, it has become a lot more difficult to identify the network to which a mobile phone number belongs to and in parallel, a lot of services nowadays increasingly rely on the accuracy of data, such as mobile numbers. They begin to realize the impact and cost of interacting with invalid numbers or subscribers ported to other networks or roaming.
With its new HLR Lookup service, clickSUMO aims to provide companies with an effective solution to check in real-time, whether a mobile number is active, the network it is on, and if the subscriber is currently abroad.
"We have seen a huge demand for the HLR service by our clients purchasing bulk SMS." says Philippe Joly, founder of clickSUMO.
"Identifying invalid numbers, or if a number has been ported to another network allows marketers, companies and websites to refine their number validation and target more accurately their audience, thus reducing considerably the cost of SMS sent or the cost of having invalid numbers registering to their service. It gives a cleaner database of mobile numbers and therefore a cleaner interaction with the user base." continues Joly.
The clickSUMO infrastructure is deeply integrated into the telecom ecosystem covering over 200 countries and 1000 network operators, which makes is possible not to only process thousands of requests per second but also offer a very low cost of less than 1 cent per number.
By sending SMS to only valid numbers, marketers increase the ROI of their SMS campaigns and any websites using mobile number for validation increase the value of their user base and reduce the costs of communicating with inaccurate numbers.
For more information on clickSUMO and its HLR Lookup service, visit
www.clicksumo.com
.