McMahon's RV gets the spotlight with Eye On LA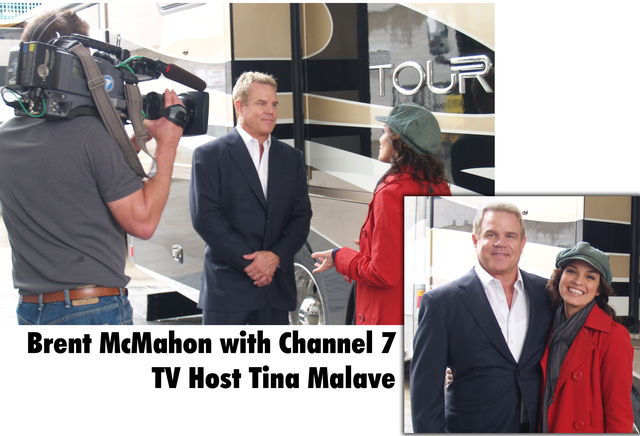 Host of the TV show, Eye on LA, Tina Malave was looking for the ultimate family gift for the holidays. She didn't need to look far to find McMahon's RV. It was an easy choice by Tina because Brent McMahon's RV is the largest California RV dealer that has the best of the best to choose from. The show, which is highlighting the hottest expensive gifts for this holiday season, showcased the TOUR class A motor home by Monaco. Brent McMahon, president of McMahon's RV was on hand to give a special guided tour of the RV.
The Eye on LA program was filmed at the Westminster location, which is one of the seven McMahon RV sites in California and Arizona. From the high end Monaco Class A motor homes that retail for over $350,000 to smaller travel trailers which retail for $20,000 gave host, Tina Malave, a big selection to talk about. The show is scheduled to air on Saturday, December 15, at 6:30 pm on channel 7.
"Eye on LA choose us to be the featured dealership for this segment"," commented Mr. McMahon, owner of McMahon's RV," because we are the number 1 dealer in California that has the largest selection of high end RV's."
About McMahon's RV
McMahon's RV is a division of MegaRV Corporation and has been serving Southern California since 2000. California locations are Westminster, Colton, Palm Desert and Morgan Hill with four locations in Arizona (Mesa, Parker, Quartzsite and Yuma). McMahon's RV carries an extensive inventory of Class A, B and C motor homes, travel trailers and fifth-wheel trailers. Visit McMahon's RV on the web at:
www.mcmahonrv.com
.