TradeGreeks Launches Free Weekly Options Trading Report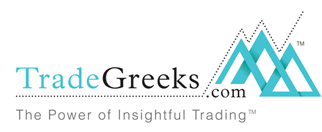 TradeGreeks.com
, publisher of several highly-rated
options trading newsletters
, is now offering a free weekly Market Snapshot Report offering exclusive insights to help individual investors trade options like Wall Street professionals. Since 2008, TradeGreeks has been providing individual investors diversified
options strategies
and real-time trading recommendations using a proprietary blend of fundamental and technical analysis to deliver independently verified returns that consistently beat the market.
"We are trading in an era of extreme volatility and have tested our strategy during the most difficult of market cycles to produce extraordinary returns regardless of market performance," explains Sujoy Bhattacharya, founder and CEO of TradeGreeks LLC.
Market Snapshot joins the popular Options Speed and Options Magic newsletters as the latest innovative offering from the Marion, Ohio-based information services company. The Market Snapshot Report includes a summary of the previous week's market activity and what to expect in the next week, five bullish and bearish stocks to watch and a special training forum dedicated to helping investors better understand a technical indicator and
options strategy
.
For investors looking for more frequent updates and recommendations, Options Speed is a daily newsletter targeting investors looking for high returns buying options with shorter trading cycles. Options Magic is a daily newsletter that offers non-directional and hedged options strategies that are flexible to adjust with market fluctuations. While both services are paid subscriptions, TradeGreeks offers a free trial period to allow subscribers to test out the service risk-free.
"Trading options can be risky even for the most advanced investors, but now you can jump in and navigate the complicated options trading market with an experienced guide at your side," said Bhattacharya. "Market Snapshot and our daily newsletters deliver actionable strategies to help investors earn predictable and consistent third-party verified returns without confusing and overly complex data."
About TradeGreeks.com
TradeGreeks.com offers individual investors options trading strategies using a tactical blend of fundamental and technical analysis that consistently deliver high returns regardless of the direction of the market.
TradeGreeks.com delivers real-time trading alerts and options strategies to its subscribers backed by an unconditional money-back guarantee.