Magnetic Attractions Gang Run Program Delivers 18% Savings to Domino's Magnet Customers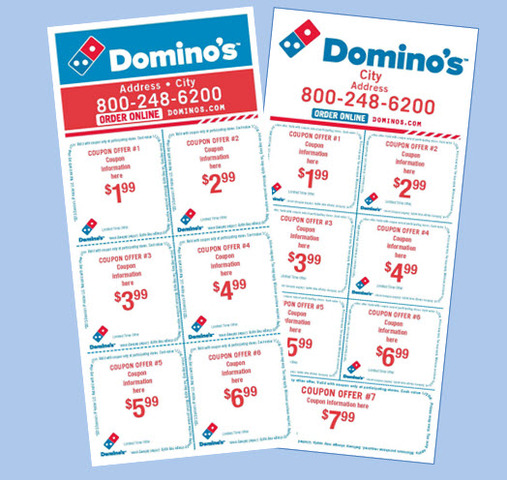 Irvine, CA. January 4, 2013 Magnetic Attractions, a leading manufacturer of promotional magnets for Domino's Pizza, is pleased to introduce gang run pricing on select BigMag™ magnetic postcards. This new pricing program is now available to all registered Domino's Magnets customers.
"We are very excited about adding gang run pricing to our lineup of local marketing solutions," Said Bill Graham, Sales Manager for Domino's Magnets. "In today's economy, we've been hearing from customers that they need new ways to stretch their marketing budget. They need winning results at a lower cost. That's just what they will be able to do with our Gang Run Economy BigMag postcard."
"Gang run pricing gives our customers the savings they need," said Graham. "In some cases the savings can total up to 18% or more. And, that savings comes without sacrificing quality, service or marketing effectiveness. These BigMags will still generate an average 8% - 11% coupon redemption rate. They will just do it at a lowest price available. It's a program I believe all our Domino's customers will love."
The Domino's Gang Run BigMag is a 3-5/8" x 8" postcard, printed 2/color with a 1" x 3.375" magnet affixed to the back. Customers have the option of two distinctive designs to customize with their store's contact information and up to 6 or 7 coupons. This makes the BigMag can be used as a handout, box topper or neighborhood mailer. Magnetic Attractions also plans on adding gang run pricing on select Domino's 2x2 magnets in February.
The Gang Run BigMag is now available to all registered Domino's Magnets customers that order a minimum 2,500 pieces. Gang run orders must be placed before the 10th of every month in order to ship by the 30th. Each 2,500 piece order will be charged the 10,000 piece rate, which is a savings of 18% off the regular price. Orders can be placed by calling Domino's Magnets at (800) 248-6200.
For more information on the Domino's Gang Run BigMag, or other products available in our Domino's Magnet Program, please call Bill Graham at Magnetic Attractions at (800) 248-6200, or by visiting
www.dominosmagnets.com
About Magnetic Attractions
Magnetic Attractions is a leading manufacturer of promotional magnets and magnetic mailers for a wide range of companies, including Domino's Pizza. In fact, for over 20 years we've been helping local Domino's franchises with their local store marketing. We were the first to mail magnetic postcards, and we continue to find innovative ways to execute coupon direct mail and magnet marketing campaigns. Headquartered in Irvine, California, and with production capabilities in the Midwest, Magnetic Attractions delivers customized marketing solutions from coast to coast. For more information on what we can do for local Domino's franchises, please call Bill Graham at (800) 248-6200 or visit us at
www.dominosmagnets.com
Email Magnetic Attractions