A Holy Grail Online Tool for Fitness Enthusiasts – Printable Workouts Launches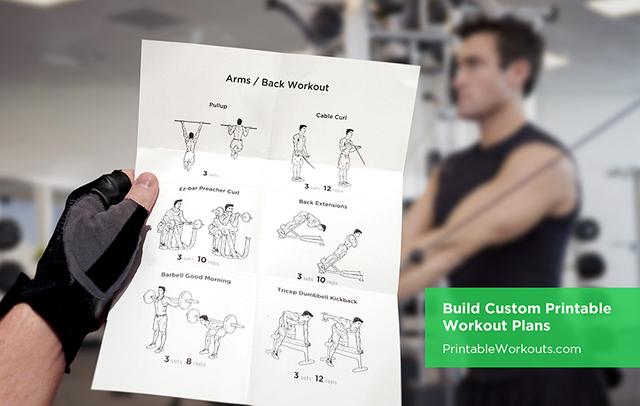 New York, NY – January 7, 2013 – A new fitness website that answers prayers for many personal trainers and gym goers alike launches this week.
PrintableWorkouts.com
is a free online tool that lets users build custom workout routines from an extensive list of professionally illustrated fitness exercises and print them out for use at the gym or at home. Beautifully designed and easy to use, the site promises to prove indispensable for many fitness enthusiasts.
"This site is amazing! This makes building routines for my clients so much easier!"
said personal trainer Jim Reston – a reaction shared by many fellow fitness professionals.
Free to use,
Printable Workouts
is built in a simple and intuitive way that makes creating a workout routine a seamless and engaging experience. One side of the website represents a letters-sized paper with an editable workout title and an area where up to six exercises can be added. The other side is a list of illustrated exercises with search and muscle group and fitness equipment filters that make it easy browse and find exercises. With a single click or a drag and drop movement, users add exercises to the worksheet area and have the option of specifying the number of sets and repetitions for each. After re-arranging the exercises as needed, the illustrated workout routine can be printed out, saved as PDF or shared via Facebook, Twitter or a custom URL.
With accurate professional illustrations, new exercises added weekly and a set of feature updates on the horizon,
Printable Workouts
is indeed a very practical and useful tool for any fitness enthusiast.
Links
Printable Workouts
Promo image (small)
Promo image (large)
Sample workout PDF
Printable Workouts on Facebook
Printable Workouts on Twitter
About the creator:
Created by
Artem Lapitski
of
ROQ
, an entrepreneur and fitness enthusiast, Printable Workouts came out a personal need for a quick and convenient way to create workout routines last minute before going to the gym. Deciding that remembering a workout or carrying an iPhone with an exercise app wasn't convenient, Artem set out to create a tool to address this need that many others share.
Contact info
For press inquiries or any other questions, please contact
workout@roqlabs.com
.
Attachments