Creative Safety Supply Announces the Availability of Tool Foam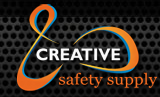 Creative Safety Supply, a leading provider of
safety supplies
for the workplace, has announced the availability of Tool Foam, an innovative product that makes it easy to store and organize tools and supplies. The foam can be cut to fit specific tools, and multiple layers can be glued together to provide a secure and fully customizable storage solution.
Tool foam is more than a convenience; it can have a dramatic impact on workplace organization and safety. One layer of foam can be cut to fit each specific tool, and a contrasting layer can be glued beneath it to provide visual clarity. Tool foam also protects tools from damage that can result from banging into other tools, and can prevent loss due to misplaced tools.
For organizations who are interested in the most efficient work systems for their companies, tool foam is just one of the many ways to promote workspace organization. Products such as floor tapes, label systems, informative posters and protective gear are all important components of a safe, organized workplace. For more information, visit
https://www.creativesafetysupply.com
.
About:
Creative Safety Supply
, is committed to innovation in the safety industry, and is continually adding new products and offering the brand names that include SafetyTac, Brady and LabelTac. The site also offers safety apparel, including work pants, jackets, and fall-arrest safety harnesses. With an extensive inventory of quality, industrial-grade safety supplies and an army of knowledgeable customer service representatives to answer all of your questions, Creative Safety Supply is a trusted supplier for many.
Email Creative Safety Supply