Topo.ly – Getting the Best Out of Your Data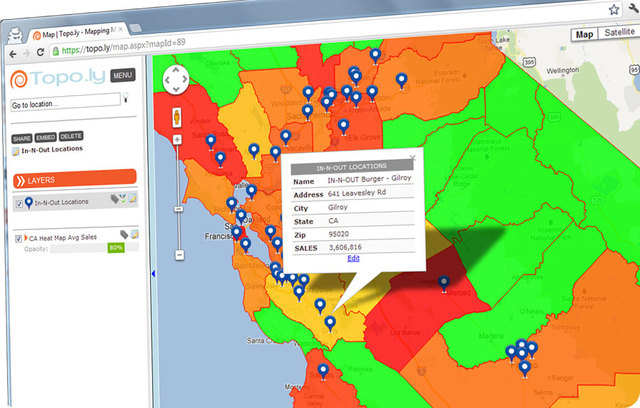 As another year rolls in, there are new methods used by companies in all their business and marketing plans. We saw the growth of different analytical tools developed to meet the growing demands of these companies. In an effort to exceed these demands, Topo.ly came into existence. It provides exceptional data visualization thru GIS mapping. Now on its fourth year, it continues to provide unparalleled services and features to make mapping simple – one that helps business owners make the most of their data.
How to Handle Data the Topo.ly Way
Topo.ly has brought enlightenment to many business owners. It presents user-friendly features that are very useful and convenient to use. Whether one is just venturing in a business or a business that has been around for some time, Topo.ly allows its customers to save time analyzing data by
creating maps for free from Microsoft Excel spreadsheets
.
Inez Steele from Realty Guild and a satisfied Topo.ly user said, "Topo.ly is the easiest, most affordable and most flexible mapping solution for my web site I could find. Within 30 minutes I had my map up and when I hit a snag, customer service was right there to help. Thanks Topo.ly for making what I thought would be a mega job into something so easy!"
Topo.ly's features for data analysis are impressive. It focuses on detailing multiple complex data that business owners can use in many different business areas. As a unique data mapping tool, it aims to help businesses:
Identify growth potentials
Optimize logistics cost
Mitigate market risks
Segment customers
Enhance marketing campaigns
Topo.ly is packed with features that are easy to use. These features help significantly in making better data analysis in half the time. Features include:
Build maps from Excel data. Easy copy and paste of Excel data to Topo.ly website and map can be drawn in an instant. Data can be visualized immediately.
Add multiple data sets. This is great for in-depth analysis to get the relation between two or more data sets for marketing plans and actions.
Share maps to staff and customers so goals can be achieved properly.
Embed maps. This is one way of reaching out to potential customers.
Various choices for territory layers to give way for in-depth analysis.
Customize markers. Topo.ly users can even add their own photos for markers to give great presentations.
Build heat maps to allow customers to make business plans as a result to their careful study of data about location density, sales, and others.
Easy navigation for easy-to-use features
Now, businesses do not need to invest millions just to get them off the Big Data chain. When it comes to business data, let Topo.ly handle them.
Email Topo.ly Mapping Made Simple