Sterling Heights Cosmetic Dentists of Family Dentistry Look to Educate the Community of Macomb County through an Interactive Website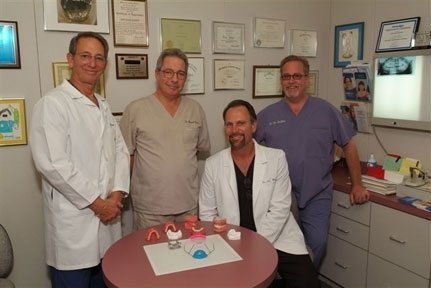 The dentists at Family Dentistry of Sterling Heights have announced the launch of a new, patient-focused website created by
dental website design
leader, ProSites, Inc. Dr. Russel J. Horton, Dr. Bruce A. Gallant, Dr. Al Majauskas, Dr. Jim Van Eaton, Dr. Jacob Witer, and Dr. Mark Isler are the doctor's behind Family Dentistry and are utilizing the website to educate the community on the importance of oral health. The website includes a links page with informative dental resources as well as a frequently asked questions page to address common concerns on topics ranging from oral hygiene to common
cosmetic dental procedures in Sterling Heights, MI
.
"We have designed our website to be easy to use and give our patients and their friends a resource to answer their questions about dentistry," Dr. Van Eaton says.
The website possesses interactive attributes including educational dental videos and a free Smile Analysis feature to help patients make better informed decisions about their oral health. Current and prospective patients now have access to information about payment information, helpful dental links, dental videos, and other informative content when they visit the website. Some of the services offered by Family Dentistry include:
Cosmetic Dentistry
Family Dentistry
Implant Dentistry
The website also utilizes extensive search engine optimization techniques to reach patients and local consumers who are searching for relevant information about
family dentistry in Sterling Heights
.
"We at Family Dentistry feel it's important to have as many resources to inform the community as possible," Dr. Van Eaton continues.
About Family Dentistry:
Established in 1970, Family Dentistry in Sterling Heights is comprised of six dentists: Dr. Russel J. Horton, Dr. Bruce A. Gallant, Dr. Al Majauskas, Dr. Jim Van Eaton, Dr. Jacob Witer, and Dr. Mark Isler. Serving Macomb County and its neighboring cities, Family Dentistry offers such procedures as dental implants, restorations, full mouth rehabilitation, porcelain veneers, periodontics, Invisalign, root canal therapy, and cosmetic dentistry, among others.
The doctors at Family Dentistry are members of the American Dental Association, Academy of General Dentistry, Michigan Dental Association, Michigan Periodontal Association, Institute of Dental Sleep Medicine, American Orthodontic Society, American Academy of Implant Dentistry, International Congress of Oral Implantologists, American Academy of Periodontology, Alpha Omega Dental Fraternity, TMJ Orthopedics, and the American Academy of Head, Neck, and Facial Pain.
For more information on Family Dentistry, please visit the website at smilesmichigan.com.