StealthGenie Rolls Out New Features: Cell Phone Monitoring Takes on New Dimension with Gmail, WhatsApp and iMessage Monitoring Features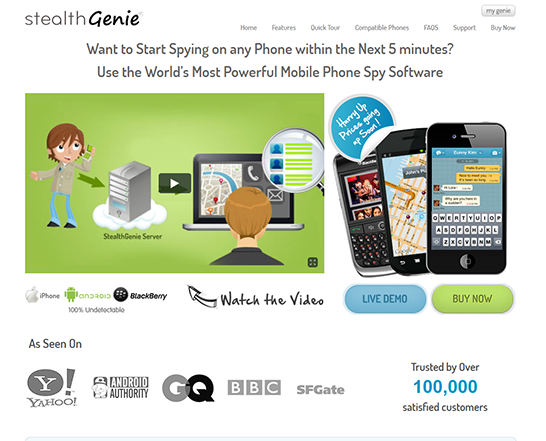 Talking about how StealthGenie is always searching for the next major innovation, Amanda Wade, the head of marketing at the company said, "We are always on the lookout for what our users are asking for in the app and it makes me very happy to say that we have always delivered. WhatsApp, iMessage and Gmail monitoring have been on the top of our list for some time now and I am glad that we are finally able to provide our users with the most demanded monitoring features."
With these features added to an already extensive list of features available, the StealthGenie users will now be able to track messages sent and received via WhatsApp and iMessage on the target phone along with the chat details like the names and time & date stamps. Any multimedia content that is shared using these apps would also be accessible.
StealthGenie
cell phone monitoring
app also supports the Gmail application for Android and iPhone and the users will be able to monitor all e-mails sent or received through the Gmail app. All details like the e-mail ID of the sender and receiver along with time & date stamps are also logged.
When asked about the customer feedback on new features, Eugene Schmidt, the manager of services at StealthGenie, replied that it was overwhelming as the clients frequently asked for iMessage and
WhatsApp monitoring
app. "The customers love it as they can really monitor their loved ones from every aspect. They asked for it and we delivered." Schmidt asserted.
As explained by one of the developers at StealthGenie, David McGrew, the interface has been kept simple and user-friendly. All WhatsApp and iMessage texts can be viewed under separate headers on the user's area. Users simply have to log in to their StealthGenie accounts from any web-enabled device and can view all texts and multimedia files that are saved in phone gallery.
StealthGenie is a mobile phone application that can be installed on any of the Android, iPhone or BlackBerry phones and records phone data and location. The application runs in the background of the target phone and uploads all recorded phone usage information on the user's account. Visit
www.stealthgenie.com
for more information about the application.