Truckcustomizers.com Announces DiabloSport inTune I-1000-DCX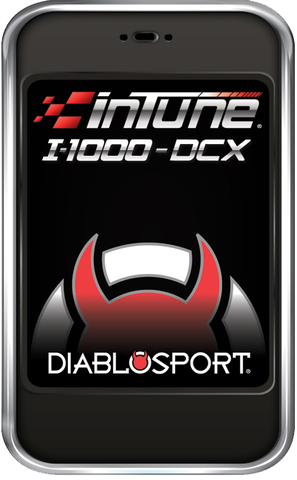 BROOKFIELD - January 24, 2013 - Today Truckcustomizers.com is excited to announce the release of the new
Diablo Sport inTune I-1000-DCX
supporting the 2011+ Dodge Challenger, Dodge Charger, Dodge Durango, Chrysler 300, Ram Truck, Jeep Grand Cherokee vehicles with HEMI engines and 2011+ Jeep Wrangler JK models, including the all-new 3.6L V6 in the 2012 applications. This innovative new programmer just hit the market, so order now and be one of the first to install this truly amazing tuner.
The
Diablo Sport inTune I-1000-DCX
flash tuner has the ability to adjust the factory program in the 5.7L or 6.4L HEMI vehicle's ECU to provide amazing power gains and better fuel mileage. The owner will also be able to calibrate the speedometer, raise speed limits or rev limits, modify spark & fueling options and much more.
The power gains vary by vehicle, from 15 horsepower and 15ft/lbs of torque, all the way up to 30HP / 35 ft/lbs TQ on the 2011-2012 Ram 5.7L HEMI. Plus, the driver will notice better drivability and more miles per gallon (MPG) on supported applications. Please visit
http://www.truckcustomizers.com
to see the complete list of supported vehicles for the amazing Diablo Sport inTune I-1000-DCX programmer.
"The DiabloSport line of tuning products, such as the
Trinity T1000
and
inTune I1000
, is experiencing unprecedented deployment success," said (Thomas Miller), director of Sales and Marketing at Truckcustomizers.com. "Customers continue to rely on Diablo's ability to meet the needs of today's diesel and gas pickup truck, performance automobile and SUV driver."
Many customers have already benefited from using DiabloSport chips, programmers, tuners and modules. Users of these products have achieved increased horse power, torque, greater fuel economy, as well as improved drivability. Join the growing community of enthusiasts' utilizing the latest technology from Diablo to achieve maximum results for your vehicle.
Founded in 2003, Truckcustomizers.com is a leader in the performance and accessory parts arena. The company offers a wide range of Jeep, performance automobile, SUV & truck parts and accessories with knowledgeable and courteous associates.
The names of actual companies and products mentioned herein may be the trademarks of their respective owners.
For more information, press only:
Tom Miller, 800-497-1780,
marketing@autocustomizers.com
For more information on Truckcustomizers.com:
http://www.truckcustomizers.com
Email Truckcustomizers.com