Mobile Internet Usage in Commercial Real Estate Up 61% in 2012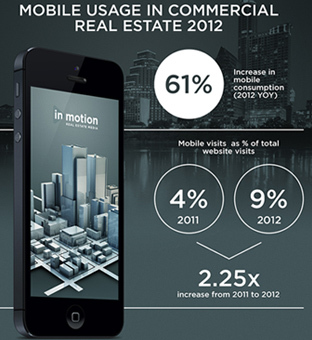 January 29, 2013 - Since 2011 there has been a global explosion in mobile internet consumption in commercial real estate. According to a
new study
by inMotion Real Estate Media, between 2011 and 2012
mobile usage in commercial real estate grew by 61%
and on average accounts for 9% of all website visits - a 5% growth from the previous year. This has resulted in increasing numbers of real estate professionals using mobile friendly sites as a powerful online sales and marketing tool.
People are spending more time than ever before browsing the internet on their smart phones and tablets. With the development of mobile websites and apps, mobile phones have become the most commonly used tool to access web pages, and research predicts that by 2015, of all handsets sold in mature markets, 80% will be smartphones.
The highest selling smartphones across the world today use Google Android and Apple iOS. The commercial real estate industry boasts
Apple
,
HTC
,
Samsung
,
Motorola
and
RIM
as its top 5 brands, with the iPhone, iPad, Sony Ericsson LT 15i Xperia Arc, HTC EVO 4G and Motorola Droid X most prominently used. With the relative limitations of traditional desktop websites on these devices, increasing numbers of real estate companies are investing in the development of bespoke, mobile friendly sites.
A 2012 survey of 1100 US adult smartphone users by market research firm Sterling Research and SmithGeiger shows an above average figure saying that mobile friendly sites make them more likely to buy into a company's service, and to return to the site later.
Traditionally, websites were developed to be viewed on a desktop or laptop, which on hand held tablets and smartphones leave users frustrated, with distorted slow loading content and tiny buttons. By developing faster-loading sites, focused text and larger "finger-friendly" buttons for touch screens, users are presented with minimal steps to complete tasks. These key design features
reduce visitor abandonment
and help
maintain positive brand sentiment
for commercial real estate companies.
You may view results here
.
About inMotion Real Estate Media
inMotion Real Estate Media is a full-service
real estate marketing firm
of choice to some of the nation's top commercial developers, brokers and investment firms. The firm provides marketing solutions for high-profile commercial real estate projects, from web development and design to video production and online marketing.
Email inMotion Real Estate Media