BloggingTips.com Releases "Create a Blog" Case Study for 2013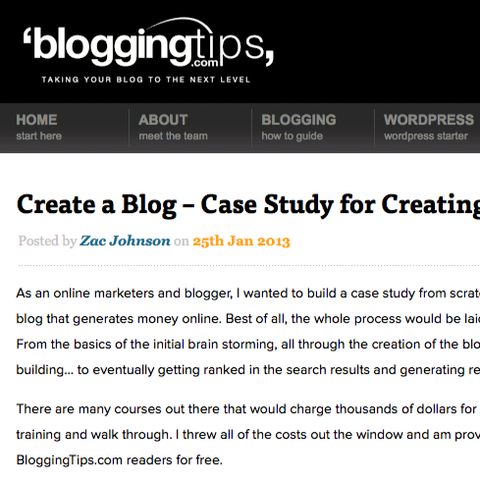 Have you ever wanted to create a blog of your own but didn't know where to start? Are you scared of the high costs of advertising, content generation and getting consulting from so called "gurus" online?
Creating a blog of your own has never been easier, but you still need to know the basics and how to get started. Even more important is that you understand how to grow your blog over time, gain an audience, have an active social networking presence and most importantly, a long term business model that will bring results.
This is exactly what BloggingTips.com is providing to all of their blog readers with their 2013
create a blog case study
. Blogging Tips wants to stand out from the crowd by offering a premium training course completely free.
Zac Johnson, the owner of BloggingTips.com, had the following to say when asked why they would offer such a course for free instead of charging a premium rate, "It's clear that there are plenty of web sites and gurus out there who offer to teach people how to make money online, but most of them come at a cost and keep selling the same broken promises and rehashed content. Through the BloggingTips.com create a blog case study we will be documenting the entire process from start to finish at no cost. This is the perfect opportunity to see how we create a new blog from scratch and allow people to look over our shoulder along the process without having to put up any upfront costs."
The Blogging Tips blogging case study is currently under way and you can follow the full progress of the case study at
http://www.bloggingtips.com/create-a-blog-case-study/
.
About Zac Johnson:
Zac Johnson is an internet marketing veteran who shares his tips, tricks, and expertise with his online audience at
http://zacjohnson.com
. Johnson is a trusted expert in his field and has been a featured speaker at several prominent marketing and Internet-related conferences, as well as appearing on ABC and FOX News.
About BloggingTips.com:
BloggingTips.com is one of the leading sources for everything relating to blogging and wordpress. First started in 2007, the blog is updated through a quality team of writers from around the world to share their voice and provide everyone with different perspectives and how to succeed in the world of blogging.