Whitepaper Reveals How to Strategically Position Products for a Global Marketplace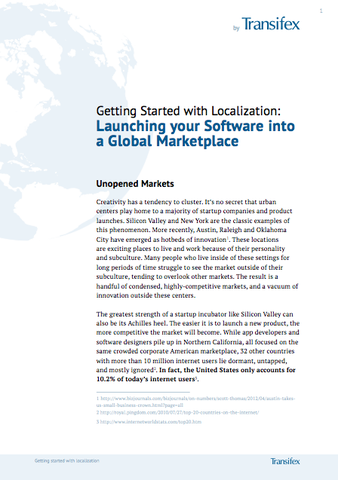 "Getting Started with Localization: Launching Your Software into a Global Marketplace," a whitepaper on localization strategy is now available, announced Transifex, maker of a cloud-based localization workflow product for the software industry.
The whitepaper, which can be downloaded at
www.transifex.com/localization
, draws attention to many oft overlooked markets and shows software developers and product managers the benefits of localization and how to do it painlessly.
The goal of localization is to make a product, usually a document, website, application, or piece of software, appear native to users around the world.
A well executed localization effort can create raving fans and new customers on every continent and in every time zone.
But it is not easy — localization requires specialized skills and resources.
"
Many of the best applications available today, which software companies put a lot of time and resources into, are limited to their native language. This should not be the case," said Dimitris Glezos, Founder and CEO of Transifex.
"There are a lot of exciting new tools emerging, like Transifex, that make software localization more accessible than ever before."
"Getting Started with Localization: Launching Your Software into a Global Marketplace" covers such topics as:
Why certain markets remain untapped
When companies should start to think about localization
What tools are available to make a product globally available
Who has localized successfully
Where to look for translation support
and most importantly:
How companies can strategically position their products for a global marketplace.
"Localization efforts over the last year have made a significant impact on our bottom line and customer base at Nitro.
We have seen a 60% increase in Localized Product License Sales and a 40% increase in unique click throughs from our largest e-mail campaign series as a result of localization
," said Matthew Jackowski, member of the Nitro PDF Localization Team.
The Localization Industry Standards Association (LISA) reported that $25 dollars was returned for every $1 invested in localization. Learn more about localization by downloading the whitepaper at
www.transifex.com/localization
.
Transifex, Inc. is a Menlo Park, Calif. based company that provides a cloud-based localization platform for the software industry. Transifex has consistently helped software companies of all sizes go global while making software localization a more automated and less painful process. Started as The translation tool for the MeeGo and Fedora projects in 2009, Transifex grew to be a the localization platform of choice for software developers around the world. For more information on Transifex, please visit
www.transifex.com
.