Luxury Home Decor Retailer Graham & Brown Launch New AphroChic Wallpaper Collection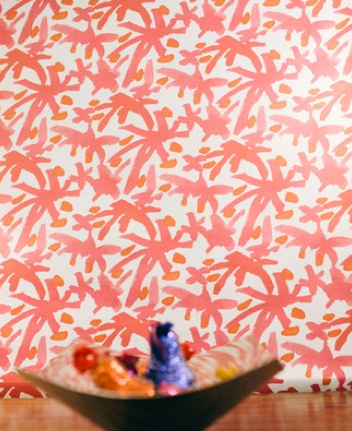 Modern
wallpaper
leader Graham & Brown is launching the newest addition to the AphroChic wallpaper and home decor collection: Juju. The AphroChic Juju wallpaper collection introduces chic cultural style to the modern home, and is sold exclusively by Graham & Brown.
Influenced by the bold floral design of the African Cameroon juju hat, the
AphroChic Juju
wallpaper collection embodies runway chic while mixing traditional and modern style. AphroChic Juju was created by renowned textile designer Jeanine Hays, in collaboration with HP's Designer Matchup Challenge celebrating the 10th anniversary of Project Runway.
The AphroChic Juju wallpaper collection is available in a fabulous starburst pattern, with three striking colorways, all printed on polyester eco-canvas.
Blue and Green Wallpaper: Energetic blue tinges paired with green accents and hint of sparkle
Pink and Red Wallpaper: Brave red blooms, pink accents embraced by a modish glimmer
Black and Gold Wallpaper: Chic black blooms with a rich gold shimmer
"Juju is our most exciting pattern to date. As with every AphroChic piece - culture, color, sustainability and a lively pattern all come into play with Juju. Named after the popular Cameroonian juju hats with their oversized floral design, Juju is our modern take on traditional floral wallpaper designs. We love that the pattern is printed on eco-friendly paper with just a hint of sparkle that's perfect for infusing a room with new life and energy all year long." - Jeanine Hays, Creative Director & Founder, AphroChic
The AphroChic Juju wallpaper collection is an extension of the previously released AphroChic wallpaper and home décor collection. The AphroChic collection includes
designer wallpaper
, plush accent pillows, tabletop placements and table-runners.
The release of the AphroChic Juju wallpaper collection conveys the stylish and chic design to which Graham & Brown customers are accustomed. As a global leader in wallpaper and home décor products, Graham & Brown is recognized as a leading creative source of influence for modern design professionals. Through a combination of innovative techniques and cutting-edge design, Graham & Brown aspires to help design professionals think differently about interior design projects.
Please visit
www.grahambrown.com
for exquisite home décor.