DHA is the past, present and future of Lahore real estate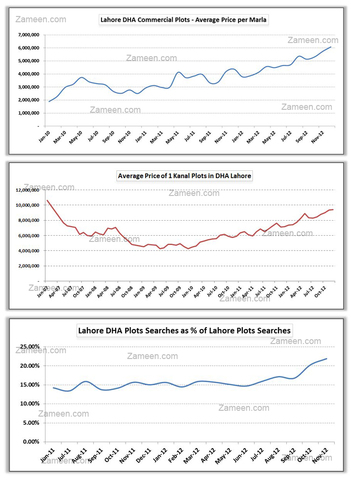 Defence Housing Authority is regarded as the ultimate housing scheme, not just in Lahore real estate sector but also in the rest of the country. DHA has been that one residential colony in the country which has set new standards for other housing societies and raised the bar very high. For the first time in the history of DHA Lahore, Zameen.com, the largest Pakistan property portal, reveals the performance of this robust housing colony. Let's take a look as to how the development performed during the course of the last few years.
Not only is DHA the epicentre of all the aspirations of people, which revolve around building or buying a dream house of their own in Lahore, but it also claims healthy attention from investors on Zameen. During any given month, DHA plots claim the lion's share of the total number of investors interested in land or plots that are up for grabs in Lahore. In June 2011, 14.23% of the total investors, who were browsing plots in Lahore, were keen on buying plots in DHA. While this percentage is pretty impressive per se, but it is interesting to note that the trend has been on the rise ever since.
Two months later, in August 2011, this number increased to 15.91%, showing a sharp jump of 1.6 per cent. During the rest of the year, DHA Lahore plots for sale managed to keep both the interest of buyers as well as the attention of a healthy percentage of visitors on Zameen.com. Although 2011 was a pretty good year for the whole of Lahore real estate sector yet 2012 turned out to be an even better one, especially for Lahore DHA. The late 2000s and the early 2010s have been the era of suburban housing colonies. Many of these colonies have been successful in giving a whole new meaning to luxury living in Lahore but despite all of this, investors have been more interested in buying plots in DHA than ever before.
The stats shared by Zameen.com reveal that despite the newly sprouting suburban housing societies, 2012 was also promising for plots for sale in DHA. What's really interesting to note is how things turned out to be for DHA plots towards the end of the year where the traffic on Zameen showed a sharp spike as compared to the performance of plots available for sale in the rest of the city. Where generally, the buying and selling activity slows down in most areas during the second half of the year, but not only are DHA plots more popular than ever but they have also been successful in registering their best performance on Zameen so far. During November 2012, DHA plots managed to attract 21.90% of total investors buying plots in Lahore and this percentage is climbing steadily.
Just like the performance of DHA plots on Zameen.com, their prices too have done well. The mid 2000s were golden times for DHA when hordes of overseas Pakistanis invested in
plots for sale in DHA Phase 5
. The generous attention from the investors led to rapid development in the area. Because of this very reason, DHA swelled uncontrollably in all directions. During January 2007, the average price of 1 kanal plots for sale in DHA was hovering around Rs 10,600,000. These prices however encountered a blow during the economic crisis of 2008 and dropped to as low as Rs 4,615,688 in December 2008.
2008-2009 was a rather bad time for those who put their plots up for sale in DHA because the prices continued to plummet. In December 2009, prices of plots in DHA hit their all-time low where the average price of 1 kanal residential plot fell to just Rs 4,288,592. However, 2010 was a much better year because this was a time when the prices began to recover. Although prices were recovering during 2010 but this recovery was not as quick as some of the investors expected. The real spike in prices came about in 2011.
In January 2011, the average price of 1 kanal residential plot was Rs 6,332,282 which indicated an upward trend. Ten months later in November 2011, this figure had climbed to Rs 7,104,117. This recovery gained momentum in 2012 and when the prices yet again managed to register almost pre-crisis prices with average price of 1 kanal residential plot hitting Rs 9,356,126 in November 2012. 2010 onwards has been an uphill climb for DHA commercial plots as well which have recovered from the crisis just as quickly.
Between January 2010 and November 2012 the average per marla price of commercial
plots for sale in DHA Lahore
has increased by 222.12% - where in January 2010, its price was Rs 1,886,538 and it burgeoned to Rs 6,076,923 in November 2012. It takes a solid project to register an incredible feat like that and DHA Lahore is one of those very few projects in Pakistan which have the ability to muscle their way to the top despite the worst economic meltdown. The security offered by the DHA, coupled with its prospects has made it a winning combination for success, making DHA the past, present and the future of Lahore real estate sector.
About Zameen – Zameen.com is the no. 1 Pakistan property portal that has become much more than just a property directory. With a range of some truly unique tools and services to its credit, Zameen.com is a team of talented individuals – each a master of his field. The site is the best way to stay updated on the billion dollar realty market of the world i.e. Pakistan real estate.
Please contact: