NC Massage School founder aids homeless, missions through charity work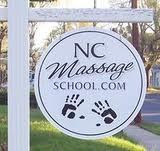 Kristie Hogan,
the school's founder, shares this drive to heal with the community through efforts to serve the homeless in the greater Charlotte area and involvement with a church outreach program.
"I have been so blessed in my life experiences and with the students and staff at NC Massage School," said Hogan. "Giving something back to the community and putting my Christian faith in action makes it all worthwhile."
As part of Hogan's efforts, the
NC Massage School
acts a drop-off site for people who would like to donate items for use by the homeless. Clothing items such as gloves, hats, sweatshirts and coats can help the homeless survive winter's frost and chill while comfort items such as disposable razors, moist towelettes, wash cloths, deodorant, hot packs, tissues and small toiletry items can make day-to-day life a little brighter. Hogan, along with her daughter and husband, will then take the goods that were dropped off and set-up a small distribution site in a parking lot in Uptown Charlotte, where they distribute the items to local homeless individuals and families. "The holidays can be especially rough for the homeless," said Hogan. "We are eager for more items to ease their lives."
Hogan also volunteers with the
OutReach program at The Cove Church
, a non-denominational Christian church that offers four locations in the greater Charlotte area. As part of the OutReach program, Hogan plans to lead a mission trip to Honduras in February 2013. The mission group will deliver approximately 5,000 shoe boxes filled with comfort items to at least 18 villages. "We are excited about the potential for this trip to Honduras," said Hogan. "Sharing the message of Jesus Christ with the children and youth I encounter will make such a difference in their lives and in mine."
NC Massage School offers training in therapeutic massage for a professional career, continuing education and personal growth. The school provides a supportive and caring environment that affords students the opportunity to develop mind, body and spirit.
Visit
http://www.ncmassageschool.com
to learn more about training in therapeutic massage through NC Massage School and Hogan's involvement in the community.
Email NCMassageSchool.com