Another Groundbreaking U.S. Patent for Eliminating Vampire Energy Loss Issued to Austin-based Vampire Labs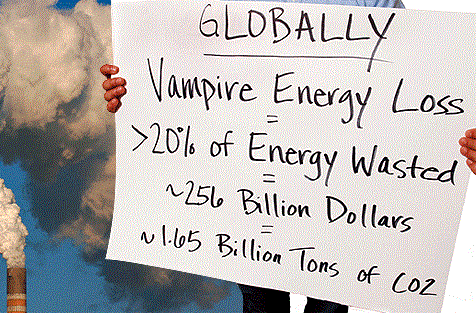 AUSTIN, TX
— Vampire Labs, LLC, an innovative company developing technologies aimed at eliminating wasted energy, announced today that it has been awarded United States Patent No. 8,358,103 for its revolutionary approach to eliminating vampire energy loss (also known as vampire power) in small office / home office (SOHO) computing and networking products, consumer electronics, home entertainment products and as an enterprise solution.
The patent, which falls under the company's Vampire Proof™ technology portfolio, expands the cutting edge IP to the most energy intensive vampire electronics for governments, corporations, small businesses and in households. The IP eliminates energy that is continuously consumed and wasted by electronic devices when they are plugged into the wall and not in use – this is known as vampire energy loss.
According to the U.S. Census Bureau, 70% of all U.S. businesses fall into the SOHO category and use home offices as their primary workplace. The U.S. Department of Energy estimates most U.S. homes have between 20 – 50 vampire electronics constantly consuming energy even when not in use. This figure does not take into account office buildings and other businesses, which are an even larger waste of energy that is not being utilized. As an enterprise solution, the potential impact of reducing wasted energy due to vampire energy loss is in the billions of dollars.
"Our patent portfolio is extensive. It provides applicable energy-saving IP to the most widespread of products, mobile devices, as well as other energy consuming electronics in homes, offices and businesses," said Hugh Thompson, Marketing VP of Vampire Labs. "We're excited to have the opportunity to offer low cost, large impact solutions that will eliminate wasted energy and the related costs."
About Vampire Labs:
Vampire Labs was founded in Austin, TX, by a handful of pioneering talents focused on ending vampire energy loss with innovations designed to save energy on a massive scale at minimal cost. To date, Vampire Labs has nearly a dozen issued or pending patents for technology that eliminates vampire energy loss in mobile device battery chargers, external power supplies, and microprocessor cores. Parties interested in Vampire Proof™ technology should visit
www.vampirelabs.com
to learn more.
For any inquires please contact: