New, Economical Climbing Glove Makes Debut at ACCT Conference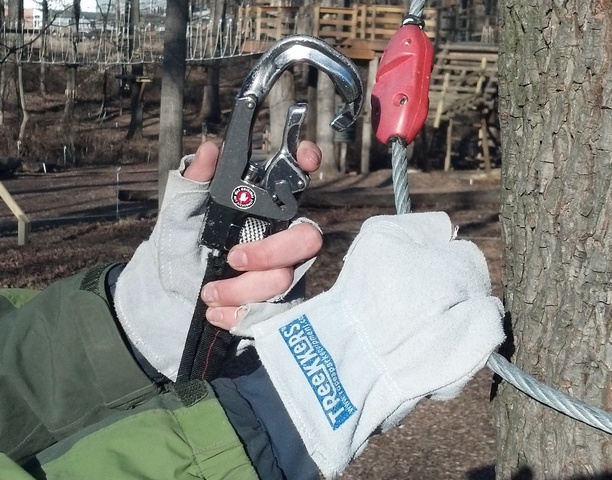 At last!-A thoughtfully designed, rugged, yet economical glove, created especially for adventure park and challenge course use, will make its debut at the Association for Challenge Course Technology's (ACCT) International Challenge Course Conference & Expo, February 7 – 10, 2013 in Las Vegas, Nevada. The gloves are called Treekkers™ ("for trekking in the trees") and are designed, manufactured and sold by RopesParkEquipment.com
Treekkers™ bridge the gap between the expensive gloves used by advanced climbers and the cheap cloth work gloves typically employed by adventure parks and challenge courses for the public. Treekkers™ are designed for three things: climbing, durability and economy.
Treekkers™ look good and feel good. A rugged glove made of washable leather and featuring a unique, semi-fingerless design that allows fingertip feel and control while protecting the lower parts of the fingers, palm and rest of the hand and wrist. They have a secure feel and grip and will stand up to repeated washing.
"We've solved the skanky glove problem!" declared Treekkers™ designer, Bahman Azarm, explaining, "The cloth work gloves typically provided by adventure parks and challenge courses for the public provide protection but they don't always fit well, don't last long and don't stand up to washing. They're designed more for occasional yard work than climbing. Adventure parks and challenge courses need gloves that fit well for climbing purposes, are rugged and washable-AND economical so anyone can afford them. With Treekkers™ the climbing establishment can provide nice, clean gloves to their customers on loan or sell them at an attractive price."
Treekkers™ can be purchased for as little as $2.99 each, plus shipping. (MSRP: $6.99.) Ropes Park Equipment is offering a SHOW SPECIAL of FREE SHIPPING on case orders placed at the ACCT Conference.
Treekkers™ climbing gloves can be ordered online through the Ropes Park Equipment division of the Outdoor Venture Group.