Former Groupon Execs Start New Venue Finding Service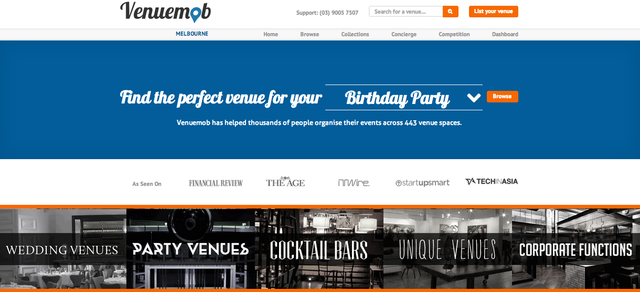 Two former Groupon executives who left their posts at the group buying giant has raised seed funding to establish a new marketing channel for local hospitality businesses. The pair, Ying Wang and David Wei have created Venuemob (
http://venuemob.com.au
)- a service to help people find
function venues
and event venues in Australia.
David Wei, the former Head of Sales Training at Groupon Australia and New Zealand, as well as Ying Wang, the former Head of Marketing in Australia and New Zealand have recently raised $450,000 in funding led by Optus Innov8, a subsidiary of Singaporean telecommunications giant, Singtel, to grow their service in Australia.
Co-founders, David Wei and his business partners, Ying Wang and James Giang, were still at university when they sold their first online company, Crowdmass, to Groupon in 2011. Wang and Wei were one of the first employees at Groupon in Australia and New Zealand, and helped to grow the company to become the market leaders in the group buying space in Australia prior to its initial public offering late 2011.
"It's a different challenge. The function venues space is fantastic. We're not asking for a discount, but we are still committed to helping local businesses attract a large number of clients and customers". Wang says.
Similar to their experience at Groupon, Venuemob is helping business owners monetize their underutilized assets.
"A lot of restaurant owners, bar owners, or even just people who own a cool art gallery don't fully utilise their function spaces, but we know there are people who are on the lookout for their venues. This means that we can be giving owners thousands of dollars of revenue on a weekly basis by introducing the venue owners and the event organisers to each other. It's a win win scenario", Wei adds.
The company is aiming to help people find unique venues for parties, engagements and corporate events. The website currently offers a network of more than 400 function rooms in Melbourne and Sydney, helping a range of businesses ranging from award winning restaurants, hidden galleries and a host of highly rated bars. It also features a personalised and convenient concierge service to assist those first time event planners locate the perfect venue.
The website to find function venues in Australia is located at
http://venuemob.com.au
.
Contact:
Ying Wang.
Co-Founder
E: ying[at]venuemob.com.au