Request a payment from anyone, anywhere, at anytime with BookedIN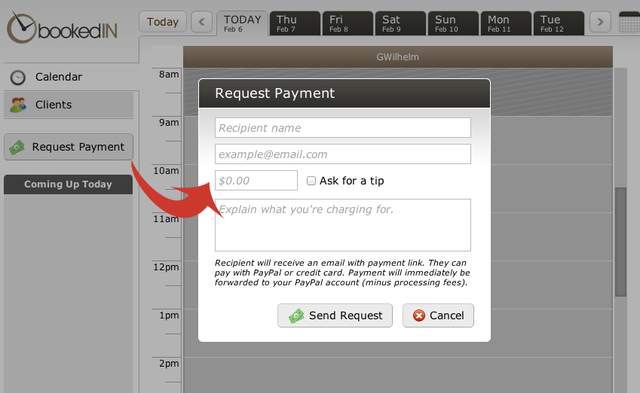 February 7, 2013 (Winnipeg, MB)
- Thousands of
small businesses
have already discovered the advantages of getting BookedIN. With our new
Request a Payment
feature BookedIN businesses can now request a payment for any products and services that they want–from anywhere, at anytime.
As soon as you
Request a Payment
your customers will immediately receive an email with a "Pay Now" button. They can pay via credit card or
PayPal
and the money is immediately forwarded to your business's PayPal account. It's easy, it's secure, and it's customizable–just like BookedIN.
"We're always striving to add features that deliver real value for small business owners," said Mike Iwasiow, Founder and CEO of BookedIN. "We already offer two great online payment options that allow businesses to collect payments for services at the time of booking and afterwards. But many of our customers still needed a way to charge clients for products, additional services and other items, not just bookings. So, we answered with this great new feature."
BookedIN is an easy-to-use, online solution that allows service-based businesses the essential tools to get up and running quickly. BookedIN provides a free business web page, a customizable scheduling tool and payment platform that lets your customers book appointments and pay for services at anytime, from anywhere in the world.
BookedIN is a privately funded software company created to help other small businesses succeed and grow. BookedIN has been featured in the Google App Store and is in the Mozilla Marketplace. We're headquartered in Winnipeg, Manitoba and online at
www.getbookedin.com
.
-30-
Media inquiries:
Mike Iwasiow
Founder and CEO
mike.iwasiow@bookedin.net
Phone: +1 (204) 415-6627
Fax: +1 (888) 482-4378
or
George Baars-Wilhelm
Marketing Director
george.wilhelm@bookedin.net
Phone: +1 (204) 415-6627
Fax: +1 (888) 482-4378