Redesigned Website from BizHarmony Educates Retiring "Baby Boomers" on How to Sell Their Business for 2 – 10 Times the Market Average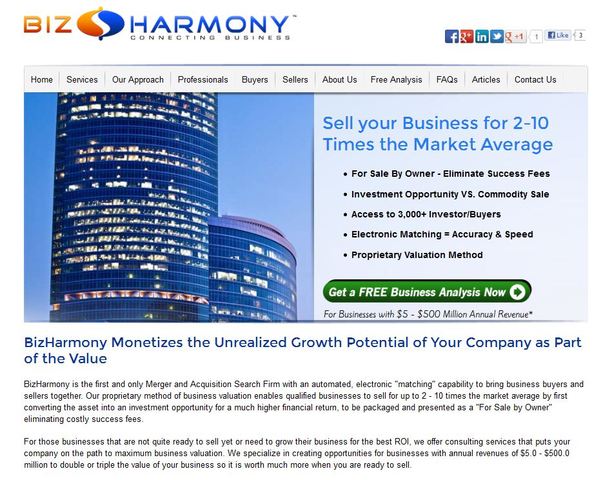 BizHarmony just launched a redesigned website that provides prospective and current business owners with the information they need to make informed decisions about buying and selling businesses. Featuring information on subjects such as Exit Planning and Joint Ventures and the BizHarmony blog containing informative articles on mergers and acquisitions, visitors can also get started right away on the business buying and selling process by filling out one of two forms directly on the new website (the
Seller Valuation Quick Form
or the
Seller Blind Profile Form
) and submit them to be processed using BizHarmony's proprietary business model.
"Qualified businesses typically fall short in getting the most for their business when it's time to sell it. The traditional valuation models used by M&A firms and business brokers simply do not appropriately value a business. The business owners lose valuation and the revenue they should incur from the sale of their business," said John Hull, Managing Member/Founder of
BizHarmony.com
."Our proprietary model has been developed over decades and allows us to get significantly more value for businesses. We offer a complimentary analysis to qualified business owners so they can see the possible outcome from the sale of their business."
BizHarmony is the first and only Merger and Acquisition Search Firm with an automated, electronic "matching" capability to bring business buyers and sellers together. Their proprietary method of business valuation enables qualified businesses to sell for up to 2 - 10 times the market average by first converting the asset into an investment opportunity for a much higher financial return to be packaged and presented as a "For Sale by Owner", eliminating costly success fees.
For businesses that are not ready to sell or need more time to grow their business for the best ROI, BizHarmony offers consulting services that help companies get the maximum value for their business. These services are designed to create opportunities for businesses to double or triple their value so it is worth much more when an owner is ready to sell.
When they are ready to proceed, prospective business owners and buyers can go directly to the website and complete a free business analysis at no cost and no obligation. To get started, visit
www.bizharmony.com
About Biz Harmony
BizHarmony was formed in October 2006 and is the only M&A Search Firm in existence providing continuous and seamless Exit Strategy Planning to actual Divestiture by partnering with businesses advisors to create an investment opportunity that yields a successful sale up to 2–10 times the average market value. Through their extensive network BizHarmony locates investor/buyers that agree to the terms and conditions formulated by the seller's team and the BizHarmony team.
BizHarmony has over 300 years of combined experience in Mergers & Acquisitions, Business Consulting, Investment Banking, Financing, Turnarounds, and Marketing & Operations, with varied backgrounds consisting of previous Business Owners/Executives, Bankers, and CPAs to help create value in under-developed companies in order to position a company for the most lucrative ownership transfer possible.