Another First: StealthGenie Mobile Tracker Extends Compatibility with iOS 6 & iPhone 5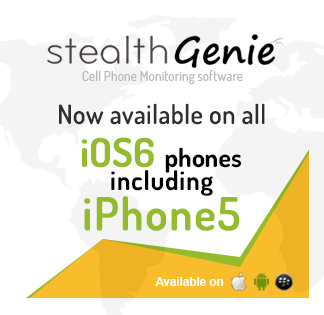 StealthGenie, a popular cell phone tracking app brand, has been quick in introducing iOS 6 support as its rivals are still festering over compatibility issues with iPhone 4 and 4S. Way before the launch of iPhone 5, developers and engineers at StealthGenie had been busy with resolving compatibility issues in advance. StealthGenie happens to be the first cell phone tracker compatible with latest iPhone 5 and as well as the latest Android OS Jelly Bean. It seems like StealthGenie has a strong habit of staying up-to-date.
As iPhone 5 gets an overwhelming response and iOS 6 is laced with mind-boggling features, StealthGenie's compatibility with iOS 6 and iPhone 5 surely spells success for StealthGenie. Eyeing the launch last year, the StealthGenie team had been prepared for it all along. "We had developed an
iPhone 5 tracker
app long ago but were only waiting for the right time to release the update. The timing couldn't have been more perfect!" said Martin Krajnak, the head of app development for the iPhone tracker.
"We had planned an iPhone 5 tracker app long ago but were only waiting for the right time to release the update. The timing couldn't have been more perfect!"
When asked about the challenges and performance of the latest
cell phone monitoring app
, Martin asserted, "We have been testing it for a good 6 months and are thoroughly satisfied. StealthGenie's extended compatibility with iOS 6 and iPhone 5 is an important breakthrough and I am proud of my team for that."
When the head of marketing at StealthGenie, Amanda Wade, was asked how she felt on such a big achievement, she enthusiastically said, "It feels great, it does! We were really determined to be the first ones to launch it and team StealthGenie has done a brilliant job at that. We are getting overwhelming response from parents and employees for it. They love the prospect of tracking their employees and loved ones to ensure safety."
StealthGenie indeed has catered to a vast potential with extended iPhone compatibility. A user can now track any iPhone with StealthGenie iPhone tracker as it is also compatible with iPhone 5 and iOS 6.
StealthGenie is a cell phone tracking application for BlackBerry, Android and iPhone that can be installed into the target phone for monitoring its usage. Scores of parents and employees use StealthGenie, making sure that their kids and employees are not using their phones unethically. Visit their website:
http://www.stealthgenie.com
for more.