Find the Hospitality or Cooking School That Fits Your Needs Through the New Enhanced Website of Cooking Culinary Arts Schools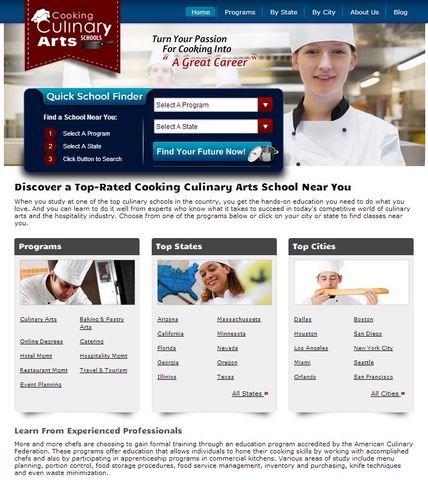 Cooking Culinary Arts Schools has upgraded and streamlined their website to help potential students who are looking for cooking schools and hospitality management schools easily find the perfect one to fit their needs.
Prospective students can search by program type such as culinary arts, baking and pastry arts, hotel management, restaurant management and more. They can also search for schools within a particular U.S. state and even drill down to specific cities within the U.S.
The overall design is much cleaner and easier to use than the original and the site automatically finds the types of culinary or hospitality management degree programs that visitors are searching for from top culinary schools in the country.
"Visitors can not only find top schools in their geographic area, but they can also find courses available online, allowing them to study programs that interest them even if there is not a culinary or hospitality school close to them," said Nancy Lambert, Vice President of Xcellimark, Digital Agency that coordinates the marketing efforts of the website.
The site also boasts a robust blog with articles pertaining to all areas of culinary cooking and hospitality management as well as city and state-specific commentaries about restaurants and favorite local foods.
Visit
www.cooking-culinary-arts-schools.org
to find the top cooking schools and restaurant / hospitality management schools in your area. Follow Cooking-Culinary-Arts-Schools on
Facebook
,
Twitter
,
YouTube
,
Pinterest
and
Google+
to find even more interesting and fun recipes and how-to videos, or share some of your favorite cooking stories and recipes with the thousands of fellow Facebook fans.
Email Cooking-Culinary-Arts-Schools.org