Celebrating 25 Years of Fresh Flavors: The Perfect Purée of Napa Valley Announces a Nationwide Anniversary Celebration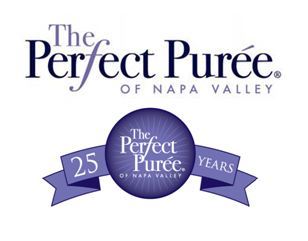 Napa, California (February 19, 2013) - Known for their fresh flavors,
The Perfect Purée
of Napa Valley kicks off the year with a tour to celebrate the company's 25th anniversary. The "Experience Flavor" tour will thank loyal food service users and fans by showcasing The Perfect Purée's line-up of 40 flavors -
fruit purees
, concentrates and blends for kitchen and bar use.
The Perfect Purée will host several cocktail inspired events across the country for trade and industry professionals. Each event will include a flavor showcase, unique tastings of signature cocktails and food pairings, and a "have it your way" bar for attendees - plus a few surprises along the way!
Chilled Magazine will chronicle the year long activities on their website and in their publication. All invited trade representatives will receive a subscription to Chilled Magazine.
"We are excited to celebrate our 25th anniversary with long-time supporters. The "Experience Flavor" tour is about giving back to the industry, inviting them to experience our flavors and to enjoy an evening with us," said Tracy Hayward, Founder of The Perfect Purée of Napa Valley.
Following its debut event in Philadelphia, the "Experience Flavor" tour will make stops in Florida, California, Illinois, Utah, Washington and Texas.
A schedule for the "Experience Flavor" tour is as follows.
MARCH 18 - Philadelphia
APRIL15 – Orlando
MAY13 – Los Angeles
JUNE 17– San Francisco
JULY15 – Chicago
AUGUST 19– Salt Lake City
SEPTEMBER 23– Seattle
OCTOBER 21 – Houston
To RSVP for an event near you and for more information, please go to:
www.chilledmagazine.com/perfectpuree
About The Perfect Purée of Napa Valley
The Perfect Purée of Napa Valley perfects the Art of Flavor for chefs and bar artists. They indulge their culinary passions with fresh fruit bases and innovative beverage blends. Their products elevate menus and expand culinary boundaries, allowing every dish to become a masterpiece and every glass a liquid canvas.
In addition to beverages, the gourmet purees and concentrates make the perfect addition to desserts and savory sauces. Every product is natural and frozen at the peak of freshness with no artificial additives, preservatives or sweeteners. All flavors can be frozen for up to 24 months and when thawed last in the refrigerator for 7-10 days for the purees, concentrates and zests or up to 21 days refrigerated for the beverage blends.
For more information, please visit
www.perfectpuree.com
.