Nussbaum Transportation Takes Trailer Maintenance On the Road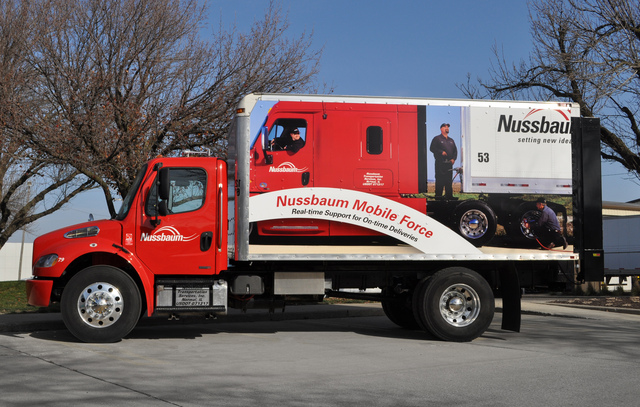 Normal, Illinois… Illinois-based trucking company Nussbaum Transportation recently put a new maintenance truck on the road; one with room to carry tires, trailer parts and equipment needed to keep their trailers in top condition. Called
"Mobile Force,
" the brightly branded 18-foot unit and a team of technicians visit customer drop lots across the MidWest to perform preventative maintenance and trailer inspections. In addition to routine tasks on wear items, the team can change tires, service brakes and repair body damage.
"Mobile Force lets us keep our own eyes on our trailers, says Tony Morthland, director of maintenance, "We are paying close attention to every detail about the condition of the trailer, from small holes in the roof, to the condition of add-on parts like aerodynamic skirts and tails. The program saves us the trailer downtime required to contract out the maintenance."
"When it comes to trailer maintenance, we hold ourselves to a higher standard," adds company president Brent Nussbaum, "Our goals are broader than passing a DOT inspection. Regular preventative maintenance means our equipment has fewer breakdowns. It means we can meet our promised delivery schedules. It also sends a message to customers: we take care of our equipment so your on time delivery schedules can be met."
Another advantage to the company-run program is the flexibility to service trailers on a schedule that benefits overall operations. With a service area across the Midwest, Mobile Force makes single or multi-day trips, even over the weekends, to make the best use of the time trailers are parked on customer lots.
Mobile service technician, Kirk Nussbaum loves driving the Mobile Force truck, "People on the road take notice of the truck's graphics, which were designed to offer a peek inside the truck and show our mechanics at work."
Nussbaum Transportation is a dedicated and truckload carrier offering transportation services to a variety of industries such as Automotive, Agriculture, Food, Steel, Paper, Tires, Consumer Goods and Construction. Based in Normal, Illinois, Nussbaum services customers across the United States. The company has been recognized with multiple awards over the past year, highlighting its innovative approaches to transportation and the integrity of the company. For more information please visit
www.nussbaum.com