BRB Publications announces new combined 2013 MVR Access and Decoder Digest, lower price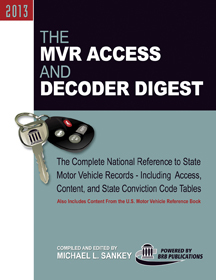 PHOENIX (February 25, 2013) – BRB Publications is proud to announce the 2013 edition of "The MVR Access and Decoder Digest", the complete national reference about the access, record content, and conviction code tables for state motor vehicle records.
For the first time since the books' introduction in 1989, BRB has combined its two flagship publications, "The U.S. Motor Vehicle Reference Book" and "The MVR Access and Decoder Digest", into one concise text carrying the latter's name.
The new, combined edition features 798 pages, an increase of 132 pages from the 2012 edition, and is priced at $33.50, a 30 percent savings compared to buying both books separately.
The 2013 edition features extensive revisions including:
Updated access procedures and record content for all states
Updated state conviction code tables, including extensive updates to AZ, CT, CO, DC, MA, NV, OR, TX, UT, VA
December 2012 revisions to CSA Safety Measurement System BASIC Tables
Reformatted for easy use
Since 1989, BRB Publications' reference products have been recognized as the authoritative reference resource for professionals working with motor vehicle records. BRB's products provide a comprehensive guide for public record searching, including descriptions of record access policies, access methods, restrictions, fees and identifiers shown on records.
For more information this new, combined title or about the online version, please visit
www.brbpublications.com
or
www.mvrdecoder.com
.
About BRB Publications
BRB Publications, Inc. is the nation's premier publisher of reference sources and websites used for locating public records. BRB's books and electronic products point the way to over 26,000 government agencies, accredited schools, and to 3,500 record vendors who maintain, search or retrieve public records. BRB Publications is a past recipient of the Publisher of the Year award from Quality Books.
Email BRB Publications, Inc