Former NASA Astronaut and Space Station Commander, Dr. Leroy Chiao to Present at Mesquite High School in Gilbert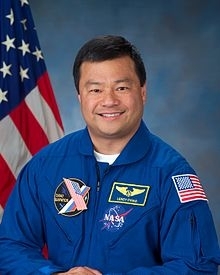 GILBERT, ARIZONA (February 25, 2013) The Gilbert Education Foundation (GEF) is hosting a presentation by Astronaut Leroy Chiao, Ph.D. in support of Gilbert Public Schools (GPS) to kick off the newest STEM program for GPS - Aerospace Engineering. Dr. Chiao will be sharing real world stories with students interested in the program based on his extensive work as a NASA Astronaut, which included four space missions and over 229 days in space.
The Aerospace Engineering program will be offered to incoming freshman and upcoming sophomores for the fall of 2013 at Mesquite High School. In addition, the
Gilbert Education Foundation
has formed a STEM (Science, Technology, Engineering, and Mathematics) committee consisting of educators, business partners, and community leaders to bring attention to - and expand - community involvement in STEM education within Gilbert Public Schools. STEM committee goals include highlighting existing STEM programs and engaging students with industry leaders such as Dr. Chiao. GEF's Executive Director Barb Dwyer stated, "I could not think of anyone better to help generate student interest than someone with Dr. Chiao's credentials and experience. We are honored to have him involved in kicking off the Aerospace program for Gilbert Schools and thankful to the companies that are sponsoring this event to make it possible."
The event is being co-sponsored by
Diomics Corporation
, where Dr. Chaio currently serves as CEO and
BASC Expertise
, a local accounting firm owned by Gilbert resident (and former NASA Engineer) Deirdre Morhet. The presentation will be held at Mesquite High School on February 21st at 4PM in Lecture Hall B. To register, visit:
http://www.gefaz.org/index.php/event-registration
or for more information contact Barb Dwyer at
info@gefaz.org
or (480) 239-5117.
Email Gilbert Education Foundation