Palm Springs Solar Company Offers New, Affordable Solution For Residential Solar Panels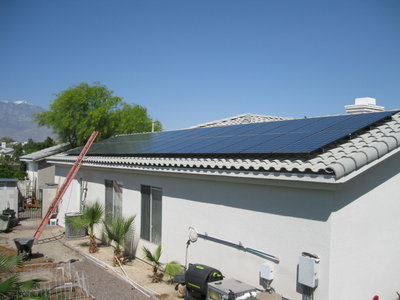 Driven Solar located in the Coachella Valley is offering a unique deal on solar panels for residents of the Palm Springs area. With the solar lease program from Driven Solar homeowners will be able to save thousands of dollars over time and without putting any money down.
The new
lease arrangement
provides homeowners who want to lower their utility bill by installing solar panels but can't afford the cost of actually buying them an entry level opportunity. To be able to offer this incredible deal to residents of Palm Springs who want solar panels, Driven Solar works directly with SunCap financial who buys the solar system for our customer and owns it for 20 years.
"20 years may sound like a long time", says Driven Solar owner Tony Navarro. "But in fact, it means that our customers pay fixed electric rates for the next twenty years - no surprise utility rate increases!" Over the lease period SunCap will also monitor the systems to ensure optimal performance.
The
solar lease agreement
allows resident to affordably install solar power, reducing their utility bills and maximize household cash flow by requiring little or no money down. The SunCap lease also includes a money-back, optimal power production guarantee so there is no risk involved. The lease terms are flexible and transferable should you choose to sell your home within the lease period. "Having solar panels can be beneficial homeowners by differentiating their home when it's time to sell," says Navarro. "In the Palm Springs market new buyers are looking for green homes that are energy efficient".
The desert area is known to have temperatures rise to triple digits during the summer months and way into fall. By leasing solar panels for a Palm Springs residence, homeowners will ensure that their electric bill doesn't run out of control. "Not only will solar panels save you money but you will be content knowing that your home is environmentally friendly," says Navarro.
Driven Solar provides turnkey installations to all of our customers. With certified roofers and electricians on staff there is no need to subcontract any portion of the project to other contractors. The team incorporates industry best practices so you can be assured the job is done right & with integrity. Going solar isn't simple, but it certainly isn't difficult. Every Driven Solar employee shares a personal goal of making customers happy, which means that we're continually making our customer experience even better. To contact Driven Solar go to
Driven-Solar.com
.