Mexico Bariatric Center Offers Single-Incision Gastric Sleeve Surgery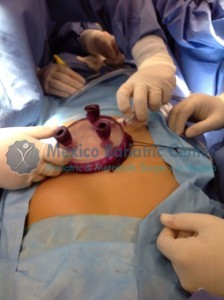 Mexico Bariatric Center (MBC) is proud to announce Single-Incision Laproscopic Surgery (SILS). MBC is one of the first companies to offer SILS in Mexico. With single incision gastric sleeve surgery, patients will have all the benefits of sleeve gastrectomy with less scarring and faster recovery.
About Single-Incision Bariatric Surgery:
Single-Incision gastric sleeve
weight loss surgery uses a patient's navel to perform the surgery. With single-incision, otherwise known as trans-umbilical gastric sleeve, patients will have significantly less-visible scarring and will recover faster.
Before the advent of laparoscopic procedure, surgeons performed open surgery. Open surgery requires one long incision that will leave a large visible scar. Studies have shown that compared to laparoscopic surgery, open surgery patients will have more complications, longer recovery times, and will lead to higher re-surgery rates.
With traditional laparoscopic procedure, surgeons need to make about five or more incisions for trocars, which are tubes or conduits that allow passage of medical devices and access to abdominal cavity. These incisions will allow the surgeon to safely perform the surgery, yet often left five or six visible scars about an inch long. By undergoing surgery with single incision, patients will receive the cutting-edge surgery from a top bariatric surgeon, with less visible scarring and faster recovery time.
About Gastric Sleeve Procedure:
Gastric sleeve procedure
, otherwise known as vertical sleeve gastrectomy, is a "mix" procedure that permanently reduces the size of the stomach by 85%. The new stomach has the capacity of 3 or 4 ounces, and thus induces the feeling of fullness. Another byproduct of the procedure, is the reduced production of Ghrelin. Produced in the stomach, Ghrelin is responsible for the feelings of appetite and hunger and is significantly diminished after sleeve gastrectomy. These two methods will induce patients to lose, on average, 60% of excess weight loss in two years.
About Our Surgeon
Our surgeon is a bariatric and gastrointestinal surgeon practicing in Tijuana, Guadalajara and Puerto Vallarta, Mexico. Our surgeon is an advanced laproscopic and robotics surgeon who has been practicing the art of metabolic and bariatric surgeries since 2004. He has worked with world-renown surgeons from Brazil, Mexico City, Tijuana and Mayo Clinic in USA.
Other Surgeons:
Mexico Bariatric Center represents only the finest weight loss surgeons in Mexico, including: Team of Dr. Louisiana Valenzuela / Dr. Ismael Cabrera, Dr. Jacqueline Osuna and
Dr. Ramos Kelly
. We only accept
qualified weight loss surgeons
who have the necessary experience to maintain high-levels of patient care.
About Mexico Bariatric Center
Mexico Bariatric Center is a healthcare facilitator which helps patients undergo metabolic and bariatric surgeries in Mexico. MBC operates three centers in Mexico:
Tijuana
, Guadalajara, and Puerto Vallarta. MBC offers various surgeries and procedures including: gastric sleeve (laparoscopic and single-incision), gastric bypass (laparoscopic and single-incision), gastric banding (laparoscopic and single-incision), duodenal switch, revisional surgery and hiatal hernia repair.