Airprene Perforated Bracing Strap For A British Medical Device Company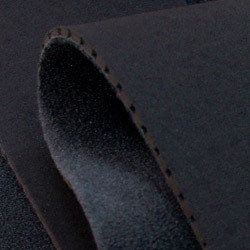 There's a British medical company that is specialized in manufacturing innovative class I and class IIa medical devices for pain relief, particularly treatment for tennis elbow and osteoarthritis of the knee. The British company developed a pain relief device; it is a vibration unit designed to release knee pain. The vibration unit is applied to the patella and wrapped using a bracing strap. The bracing strap that is used to tie the unit should be heat resistant; moisture is released through the fabric, breathable, flexible and provides a comfortable feeling when wearing it. Therefore, the British company was looking for a neoprene fabric supplier to deliver a high quality bracing strap to meet their expectations. The company contacted Neotex Union Industries, a neoprene knee brace and support supplier for more than 23 years, for solutions. Accordingly, Neotex Union Industries suggested a 3mm thick perforated airprene sheet, as for fabric, nylon is applied for front and back layers. As a result, Neotex Union Industries provided a sample product within a short time using the newly purchased 3D CNC dynamic cutting machine. After seeing the sample product, the British company made the order and mass production started.
Perforated Airprene Sheet
Perforated Airprene Fabric is a type of fabric invented to enhance neoprene's properties, and it is mostly applied on braces and supports. Airprene foam delivers impact protection, perforated functionality, gives maximum airflow; the nylon fabric excludes sweat and provides dryness with high elasticity.
One-Stop Airprene Strap Production
Perforated airprene sheet is made using a puncher machine, nylon fabric dyeing is executed by high-tech technology and neoprene fabric compound is done by Neotex Union Industries' customized machine, etc. Neotex Union Industries' one-stop service ensures every process is done accurately to minimize defeated product rate.
The pain relief device was distributed and sold in pharmacies in the British, US and many European countries and brought ease to tens of thousands of people worldwide. The British medical company was pleased to have Neotex Union Industries as their quality supplier and have continued to make orders since then.
read whole story:
Airprene-Bracing-Strap-For-A-British-Company/airprene-bracing-strap.html
read about neoprene fabric company -
Neotex Union Industries Co., Ltd.
Email Ready Market Online Corp.