ECAC and MHL Announce International Hockey Diplomacy Initiative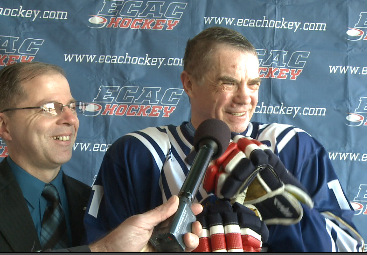 New York, NY – The Eastern College Athletic Conference (ECAC) Hockey and The MHL are pleased to announce a series of international games to be played in the United States. ECAC Hockey teams will face off against the MHL Red Stars during the 2013-2014 hockey season.
The MHL Red Stars will compete against:
Yale University - Friday, December 27, 2013
Harvard University – Saturday, December 28, 2013
Union College – Tuesday, December 31, 2013
Cornell University – Friday, January 3, 2014
The tour is designed to bring elite hockey players ages 17 to 22 together in international play. This is the third year that an Ivy League school has played a team from the MHL, but it is the first time that a complete international tour has been integrated into the ECAC Hockey regular schedule.
"Hockey is a great unifier and we are pleased that some of the most talented players in the MHL will have the opportunity to come to the United States and face off against storied ECAC hockey programs," said Alexander Medvedev, President of the Kontinental Hockey League (KHL). "We believe we all have something to learn from each other and we find it fitting to make this announcement about hockey diplomacy on Hockey Across America Weekend."
The Universities will play the MHL Red Stars, an all-star team of players aged 19 -21 from Russia, Kazakhstan, Belarus, Latvia, Lithuania and Slovakia.
"ECAC Hockey comprises 12 of the most prestigious institutions of higher learning in the world. The coaches and student-athletes representing our institutions are the some of brightest and most talented individuals in the sport," said Steve Hagwell, Commissioner of ECAC Hockey. "The opportunity to compete against the best players international hockey has to offer is a great competitive benefit, but also a tremendous cultural experience. We thank Alexander Medvedev and representatives from the MHL for providing our student-athletes and coaches with such a valuable experience."
For additional information please contact:
Bill Trifiro
617.413.8653
bill@trisvara.com