Interview Process Takes 32% Longer Than in 2008 as Hiring Hoops Increase for Care Professionals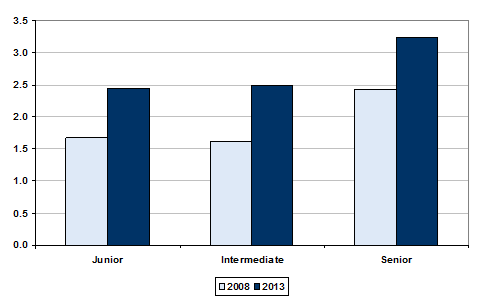 Over the past five years the length of the interview process has increased by nearly a third for the average successful applicant in the care sector, according to
research by Randstad Care
, the specialist recruiter.
Interview process for permanent jobs in care lengthens by 1.5 hours
Number of roles requiring aptitude or technical testing nearly doubles to 23%
Vetting process delays increase by 4 days
Care professionals who secured a new permanent job in the last 12 months spent 32% longer on the interview process, compared to 2008, according to an independent poll of 2,000 people carried out by market research firm Canadean. On average, health and social care workers spent 6.3 hours in the interview process – an increase of 1.5 hours compared to five years ago.
As a result, the total time taken to find a new permanent job in the care sector has risen by 27% since 2008. Job hunters in the sector spend an average of eight weeks in the process of finding and securing a new job, compared to the six weeks and two days taken five years ago.
Nearly two thirds (64%) of care professionals who interviewed for a job in the last year state the process was harder than five years ago.
Victoria Short, managing director of Randstad Care, said: "With funding slashed, local authorities and the NHS are often looking for their care staff to do more with less. This is particularly pronounced in the most senior management roles, where it's all about the results that person can bring to the role. As a consequence the selection process has become longer and tougher for prospective candidates."
A separate poll of Randstad Care's consultants suggests that the level of testing in the care sector during the application process has nearly doubled. Five years ago,12% of care roles required some form of psychometric, technical or aptitude test – particularly at a senior management level, a figure which has risen to 23%.
The number of interviews employers in the care industry conduct with a successful candidate has also risen sharply since 2008. For a junior role, employers required an average of 1.7 interviews five years ago, a figure that has risen to 2.4. Employers now interview successful candidates for senior roles an average of 3.2 times, up from 2.4 five years ago.
The number and time taken to carry out vetting checks after the interview process has concluded has also increased in the sector. Five years ago, employers vetting credentials such as qualifications, DBS (Disclosure & Barring Service) checks and references added an average of 29 days to the process. This delay has now increased to an average of 33.1 days.
Victoria Short adds: "Vetting new staff rigorously plays a crucial part of safeguarding procedures in the care sector, and it is not a corner that can – or should be – cut by organisations. However, it's also vital that third party providers of DBS checks work quickly and efficiently to reduce unnecessary delays to the hiring process, as without this speed current teams remain understaffed."
About
Randstad Care is part of the Randstad group, one of the leading recruitment & HR services providers in the world with a top five position in the UK and a top three position in fifteen countries including the US, France and Germany.
In the UK, Randstad's business lines serve the public and private sectors across Accounting and Financial services; Business Support; Construction, Property and Engineering; Education; Health and Social Care; Interim Management and Search; Human Resources; IT; Legal; Retail; Sales, Student and Worker Support and In-House and Managed Services.
At the end of 2012, Randstad had 1,750 corporate employees in the UK, working in 203 locations. UK revenue in 2012 was €799 million. Randstad Holding nv was founded in 1960 and is headquartered in Diemen, the Netherlands and listed on the NYSE Euronext Amsterdam. For more information see
randstad.co.uk
and
randstad.com
.