AMS Vans "Random Act of Kindness" Provides Prom Transportation for Couple in Wheelchairs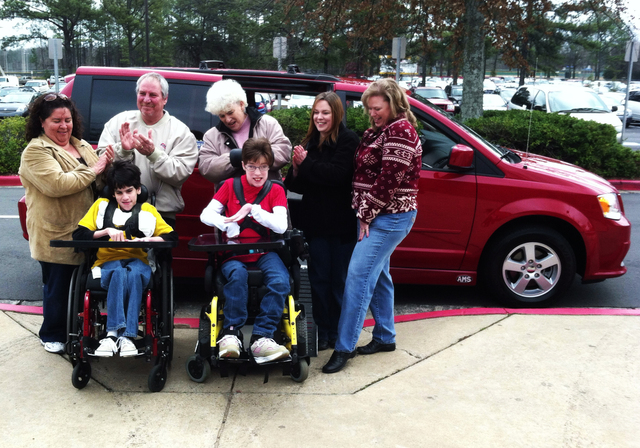 March 8, 2013 Atlanta, GA - Thanks to Atlanta NBC-affiliate WXIA-TV and AMS Vans, Jessica Wilson and Donnie Gooding of Marietta, Georgia will be going to their Lassiter High School junior prom in the same vehicle, which would have been impossible before Jessica's aunt nominated the couple for a "random act of kindness" that will let them enjoy their prom night together, from beginning to end.
In a daily Random Act of Kindness segment, 11Alive morning news anchor Karen Greer surprises an individual or individuals in need of help or a favor. Perhaps a kindergarten classroom needs special supplies, or a person who does significant community service is nominated by a fellow citizen to receive a gift card as thanks. What may seem like a "small" favor to some can make a dramatic difference in someone's life.
Jessica's aunt Teresa Hodge knew that her niece and prom date Donnie, both in wheelchairs because of cerebral palsy, had no way to travel to the prom together. Their parents have wheelchair accessible transportation, but neither is equipped to carry two people in wheelchairs at the same time. Hodge got a quote for a one-day rental for a van capable of transporting two wheelchair users from another local handicap van company, but their rate was exorbitant, so she nominated the pair for a random act of kindness, and her request was granted.
The segment producer contacted AMS Vans, which welcomed the opportunity to help. On February 28, the camera was rolling as Greer surprised the pair in their classroom and escorted them to the front of the school, where a side-entry AMS Van was parked at the curb. They approached the van, the side doors opened, a ramp deployed, and their moms stepped out of the van as the anchor told them the van was theirs for prom night. They would be spending the entire evening together.
The two students could not contain their excitement, while family and friends wiped away tears. An AMS Van will become a limo the night of March 16, escorting two happy, soon-to-be seniors to dinner and their prom.
ABOUT AMS VANS
AMS Vans has new and used wheelchair vans for sale nationwide, with a low-price guarantee on all newly converted AMS brand wheelchair van models. Buy, convert, trade, sell or rent wheelchair accessible vans, where prices are often thousands of dollars lower than the competition. AMS Vans offers adaptive mobility equipment solutions, as well as more than 100 handicap vans for sale online at
www.amsvans.com
.